For starters, phew. That felt good.
I'm so appreciative of the outflowing of support that I received after writing about my divorce. It's amazing how our fear can build something up in the mind to the point where our anxiety about a certain outcome is worse than the actual outcome, and that was certainly true for me in this situation. I feel like I'm breathing a little lighter with that news out there. I believe that there is a big difference between secrets and privacy, and while I don't think I owe anyone anything, I also think there is freedom for me personally in walking in the light. And while I was hiding my divorce, I could not do that in this space.
I think that's why I've been so quiet here on the blog. It was just too hard to write anything of substance while stepping around the biggest part of my life, so I just kind of stopped writing at all. Except for the sponsored posts. Those kind of had to keep coming. Thank you for your patience, because I know more than anyone how annoying that can be. I've heard many complaints over the last year that my blog had dwindled down to sponsored posts and trust me, no one was more bothered by that fact than me. There will still be some coming, but I'm hoping my regular writing will be more frequent than the "commercial breaks" and that you can bear with me.
While I looked at many other job options for myself in the past year, including going back into private practice, the truth is that there are no options that I could find that would allow me to maintain my current income without going back to a pretty rigorous 9 to 5 outside the home. And given all of the changes that have happened over the last year, I wanted to continue being able to work from home and pick my kids up from school. I do feel very blessed that I am in the position to work for myself, and with a flexible schedule. While sometimes "flexible schedule" looks a little more like "working all the time until I fall asleep," I think it has been good for the kids to have me at home. So, blogging will remain my job for the foreseeable future, and while this clearly posed some challenges as my personal life imploded, I also continue to be incredibly grateful that it's something I get to do for a living, because I really do love it. I just didn't love it for a while when things were so messy that I couldn't even form a sentence.
I'm probably going to be writing a lot about divorce and coparenting, because I've felt a bit muzzled for the last year and I have SO MUCH TO SAY . . . about how we shame people who have had a divorce, about divorce in Christian circles, about how friends can make things better or they can make things harder, about coparenting, and even about our legal system and how it makes divorce so contentious. I also want to write a bit more about friendship, because one hard lesson I've learned in the past few years is that supportive friendships are vital and life-giving. I think that for women in my age and stage, it's so easy for that to get put to the back as we try to juggle our marriage, our work and our kids. It did for me for a while, and by the grace of God just as my marriage was on it's last leg, I found myself surrounded with strong and loyal women. (I also found some friendships were not as loyal, and that's a story for another time as well.)
Speaking of loyal friends, I have to thank the girlfriends who held my feet to the fire to write that post and finally hit publish. They read it and helped me edit, listened to my fears about it, and pushed me to go live when I was not feeling brave. They knew, before I did, how much I needed to do it. And I love friends who can call me on my bullshit when I make excuses or create narratives that are based in fear.
Let's see, what else is new? I'm currently in the middle of a remodel. It feels like I've been in a remodel for, like, ever, between this house and the previous one. But there is a cost for divorce, and this has been one for me. We could not afford the old house as a divorced couple, and we sold it and split the proceeds. The kids and I moved back into a house that we lived in when the kids were little, but is just too small for the 5 of us now that the boys are man-sized. So I'm adding two bedrooms. Fortunately, the architect drew it up so that most of the main house is untouched, so that we can live here while it's happening.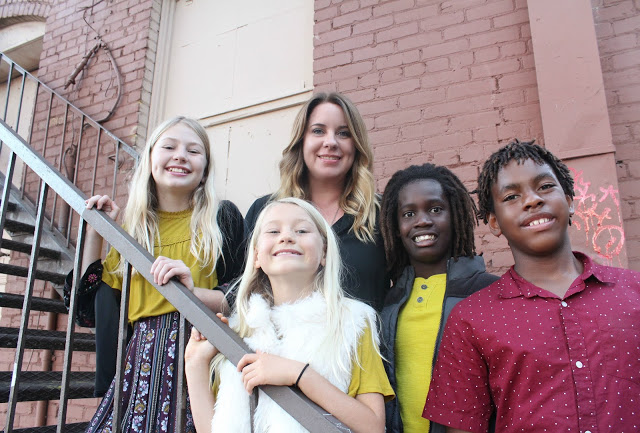 We are finding our new rhythm. The kids live with me predominantly but they do overnights at Mark's and he sees them quite a bit. We live very close. We will still do our Christmas Eve brunch with friends. We will spend Christmas Eve and Christmas morning together. I'm incredibly grateful that Mark and I manage to do the holidays together so that neither of us have to be away from the kids on those days. The kids see that we are still a family, albeit a little different. And we are.
Thanks, again, for the outpouring of support this weekend. It meant more than you can ever know.