The other day, Jafta wanted to walk to a friend's house at dusk. He was wearing a hoodie over a baseball hat . . . a look that he likes. As he walked out, I yelled after him.
"Hoodie off! And take your hat off. Try to look less . . ."
And as the words came out of my mouth, I was mortified with myself. What is the end of that sentence? Did I just ask my son to look LESS BLACK? And yet, he answered back.
"I know."
And he did know. Because of the talk. The talk that we continue to need.
My boys are growing so fast. My oldest is taller than I am. It's a milestone most mothers will feel bittersweet about, as we watch our boys turn into young men. But for mamas of black boys, it's also tinged with fear. My boys aren't as "cute" anymore. They don't look like little boys. They are nearing an age when their skin color becomes a liability to their safety.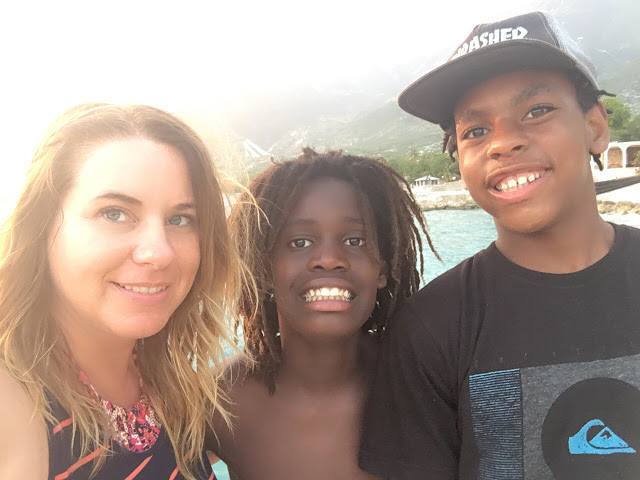 Last year, a man named Philandro Castile was pulled over for a traffic stop. He was asked to provide his license and informed the officer that he had a gun – as gun owners have been instructed to do in the presence of police. He had a permit to carry. He did not reach for the gun, and yet, he was shot. He bled out in his car in front of his daughter as his wife filmed. Yesterday the police officer who fatally shot Philando Castile was found not guilty of second-degree manslaughter. He also was acquitted of two counts of intentional discharge of firearm that endangers safety. He killed an innocent man, and was not held accountable.
It's a story that is all too familiar – police officers reacting quickly – assuming a greater threat and using greater force than a situation warrants. We've seen so many stories like this recently. An unarmed man shot during a traffic stop because he followed the instructions to present his drivers license. A man shot and killed while holding a toy gun in a store. And Mike Brown, stopped for jaywalking, and a confrontation leaves him dead.
I am growing so weary of posting about these tragedies and having people rationalize and excuse the completely obvious lack of safety inherent in being Black and male in this country. I'm so tired of people finding excuses, minimizing, and victim-blaming. I'm sick of people perpetuating the idea that these people brought death on themselves, or somehow deserved to die, because they weren't following the right script.
I feel like every time these stories emerge, I get the initial wave of fear and sadness, thinking about my own sons and the world they have to navigate. God forbid they engage in pot-smoking or shoplifting or talking back to adults as teenagers – behaviors I myself did in high school – because for them, it might be the thing that someone cites as an excuse for being shot. But then, to compound those feelings of grief, I also have to deal with round 2: the anger that emerges when our society, and oftentimes our justice system, fails to acknowledge the problem. When police officers are not held accountable. When excuses are made. When I'm told, repeatedly, that this isn't about race. When moms of black boys are viewed as too paranoid or too sensitive or too "obsessed with race."
I could tell you plenty of personal stories about how I've observed the bias against black males manifest towards my own sons. I could share instances that have occurred at their school, in our neighborhoods, and in our community. I could share about times that they've been assumed to be menacing or threatening . . . about the double standards we observe towards them . . . about the way my kids are treated more harshly than others, how the expectations of them don't match their age. I could share, but these stories are painful and private, and more than that . . . I don't want to expose my kids to the predictable character assassination that comes with any discussion of racial bias, as people try to find excuses that wave away the reality of racism in this country. But suffice it to say, when moms of black children are in safe spaces, we discuss these things together. We observe the same patterns. We share the same fears. And while most of us are dealing with micro-aggressions that hurt our children's psyche more than their bodies, the fear of violence is ever present.
But the thing is, I shouldn't have to share our stories to be believed, because there is a plethora of empirical research that illustrates the phenomena so many of us observe. The
APA reports
that Black boys as young as 10 may not be viewed in the same light of childhood innocence as their white peers, but are instead more likely to be mistaken as older, be perceived as guilty and face police violence if accused of a crime,
The bias inherent in law enforcement has been well documented as well. In repeated
psychological tests conducted by the psychology department at the University of Colorado
, researchers illustrated the implicit suspicions people hold against people of color: Participants shoot an armed target more quickly and more often when that target is Black, rather than White. However, participants decide not to shoot an unarmed target more quickly and more often when the target is White, rather than Black. In essence, participants seem to process stereotype-consistent targets (armed Blacks and unarmed Whites) more easily than counterstereotypic targets (unarmed Blacks and armed Whites).
This graph, by Mother Jones, illustrates that black individuals are shot during arrests at a much higher rate.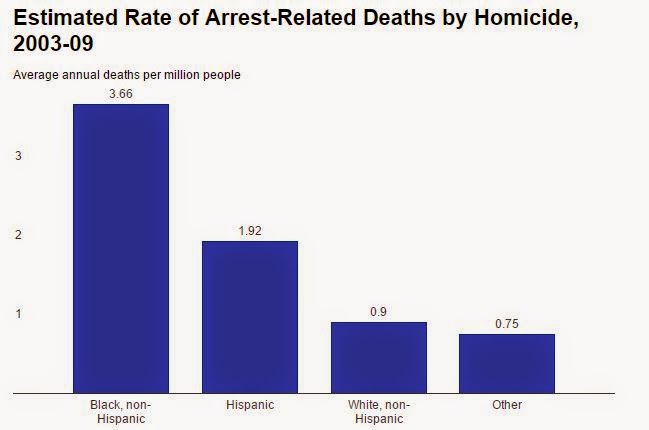 So when you see people rioting and protesting . . . when you witness the tears and anger in the faces of the family as they learn that Philandro's killer will not be charged . . . remember: this is not just about Philandro Castile. This is about a community who has witnessed a clear pattern of violence towards men at the hands of people charged to protect our citizens. Violence with racial bias that is well documented. And the decision to fail to even charge the officer in in the death of a man is yet another blow. It's another perceived message: black lives don't matter.
If the anger around the decision made yesterday is confusing to you, it's time to listen. It's time to research. It's time to pull your head out of the sand and face the cold, hard facts about racial bias and police brutality. No one is saying that all police are racists. In fact, it's quite possible that many of the cops who have slain black boys weren't themselves racists by the general definition of the word. But they were living in the context of systemic racism . . . in a country that socializes us to be afraid of black men. Whether we like it or not, society conditions our impulses. We can try to counteract the systemic racism we're living in, and many of us do, but research indicates that racial bias infiltrates our first response, before logic takes over. Please read the psychological studies I linked to above the post to understand more. We are all susceptible to this kind of bias, and that bias is life-threatening for my kids, and the kids of people you know. And nothing will be fixed until we acknowledge that it's there.