Our house is finally done enough to share some before-and-after photos. Last month I shared our living room. Today, I want to share some photos of the kitchen.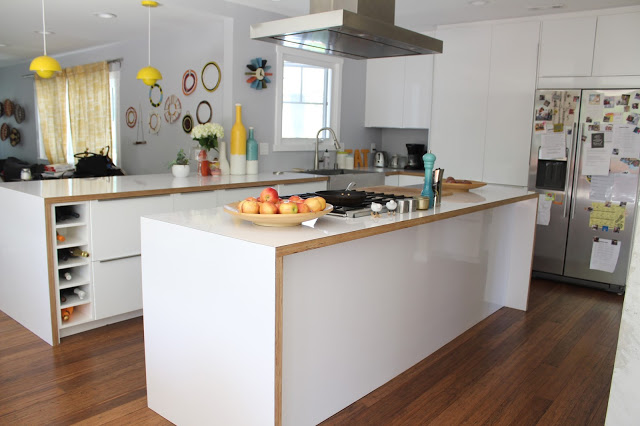 This is what we started with. It was pretty dated, with dark oak cabinets and grouted tile (which is a nightmare to clean. Why was that ever in vogue for kitchens?) We also had a giant fireplace that closed the kitchen in, so that if you were cooking, you couldn't really interact with the rest of the house. It felt cramped and isolated, and didn't have a good flow.
I didn't want to veer too far from the existing layout because I didn't want to fuss with moving plumbing or electrical, but I did manage to create a much better flow by making the island thinner but longer. I elongated the kitchen towards the slider doors, but left more space between the fireplace and the island so that people could sit or stand. We also removed half of the fireplace, to open it up to the living room. We pulled out the weird soffits and left the ceiling flat, and hung some pendant lights over the breakfast bar and a range hood over the stove.
We managed to add a lot of square footage to the kitchen by pushing out towards the sliders, which still left plenty of space for a dining table.
This is our third kitchen remodel using IKEA cabinets, and I'm still just as in love with them. I used a lot of drawers for the low cabinets, and encased the fridge with pantries on either side. The fridge is also IKEA. The range (which I am in love with) and the microwave drawer (also in love with) are from Bosch. The microwave drawer was spendy but I love how seamless it fits into the design and it functions really well.
I had a lot of countertop space, and I also knew that I wanted that modern "waterfall edge" look. As I priced out materials, I was overwhelmed at the cost of solid surfaces. I finally had the idea to go with exposed plywood and a laminate top. It's a fun modern look, and all of the materials for this countertop cost me under $1000. I wasn't sure how it would hold up, but a year in and the laminate still looks brand new. It's SO easy to clean and I love the sleek, shiny service and the little industrial peek of plywood. If you try this at home, make sure you seal the sides.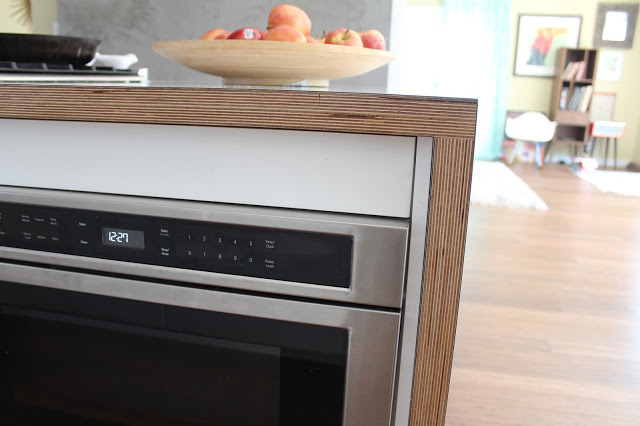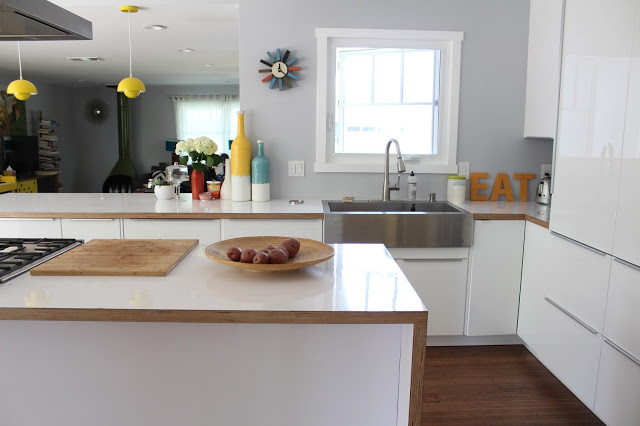 Another thing I love about this kitchen: THIS SINK. It's a huge, single-basin sink big enough to hide several pots and a full meal of dishes. So if you are a slacker like me, you can fit a lot of unwashed dishes tucked into this sink.
The paint color is Manhattan Mist by Behr. It's a delicate blue-gray. Very calming.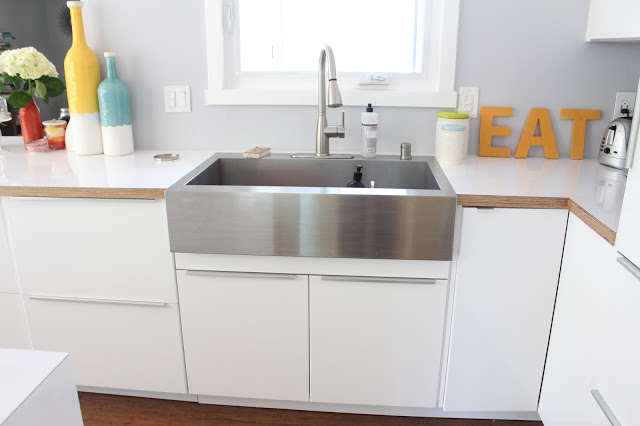 I love the flow of this kitchen now. If I'm cooking, I can have people seated at the island that opens to the family room, or people can gather at the center island.
The kitchen opens to our dining area, which sits right in front of the wall of panoramic doors. Our mid-century kitchen table is from West Elm and the chairs are Eames-inspired from Rove Concept. The Nelson pendant lights are from Modernica, and the yellow pendant lamps are from Gilt.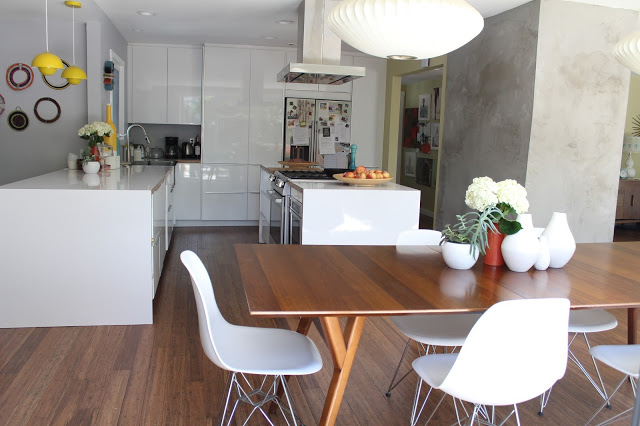 That's our kitchen!