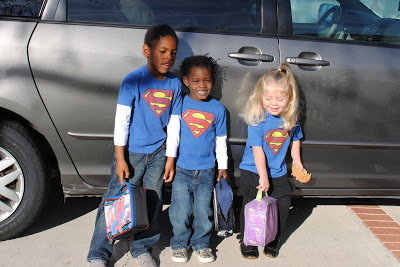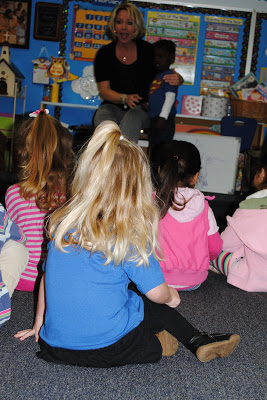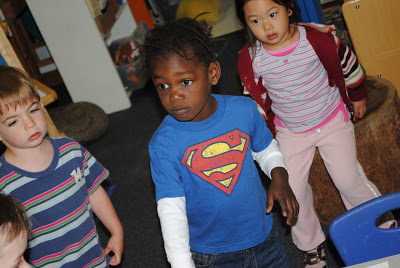 Kembe has been watching his brother and sister go off to preschool for a month now. To be perfectly honest, those mornings have been tough on both of us. He always seems really low when they are gone. Karis naps half the time, and I think a quiet house where he is the only kid is not a familiar scene for him. When we pick the kids up, he seems so relieved. He has also seemed curious about the preschool thing, and recently started asking to go. Last week, he started crying every time they left. "Mwen vle ale preschool" was a frequent request.
Finally, we decided he was ready to go. He started on Monday and had a great day. His English is coming along so well, and it really helps that he is in India's class. He was so excited to have a little lunchbox of his own, and to walk out the door in the morning knowing he wasn't coming straight home. He talked for the rest of the day about how he went to preschool, too, and how much he liked playing basketball on the playground. Today, when I went to pick him up, he threw an out-and-out tantrum about leaving. He wanted to stay and play basketball with his new friends.
Speaking of, this afternoon the kids had basketball practice again. Some of you asked if we were going back after the incident last week. I didn't even think of not going back. I did feel a little apprehension about seeing the other mom, and wondered how I could try to move past the awkwardness of last week. She and her son weren't there. The other little boy (whose mom I didn't talk to) was not there either. I confess that I felt a little relieved, but also bummed if that mom felt she had to remove her kid from the class because of the conversation we had.
A few people chided me for talking to the mom about her son's behavior. I must say, I am in the "it takes a village" camp. I think kids benefit from guidance from their community at large. I generally don't go around scolding other kids, but if I see a child doing something egregious, I will tell the parent. If the parent is not around, I might even talk to the child directly. I would really hope that another parent would do the same for me if my kid did something I missed. It seems strange to me that an adult would observe a child behaving badly and then do nothing . . . but that's just me.
Where do you land on this one? If you saw a neighbor or a kid at the park doing something offensive, would you alert the parent, or talk to the child if they weren't around? Or do you take the stance that it isn't your place to parent someone else's child?