Kembe takes his role as "helper" very seriously. Sometimes I have a hard time believing this kid is the same age as India, because he acts like such a little adult. One of his favorite pastimes is sweeping. I promise – he does this of his own will. And he is remarkably good at it. My other two kids like to pretend to sweep – they sort of push the broom around and then call it a day. Kembe is serious about it. He edges in from the corners and even uses the dustpan. And then he grabs the swiffer.
Here he is on one of his secret playdates with Ryder, where he has somehow managed to talk Ryder into being his assistant. After they swept the house, Kembe ordered Ryder outside, where they swept the leaves off the trampoline. A job I've never even thought of doing.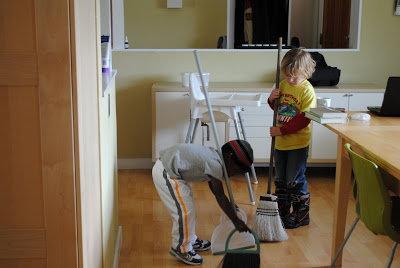 He has also taken it upon himself to be my little babysitter for Karis. These two have the cutest interaction – they absolutely adore each other. BUT – he is also very keen on scolding her when she decides to get into something that she shouldn't. Which is pretty much every second of the day.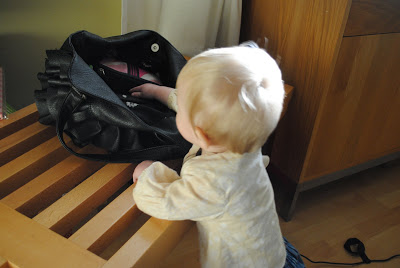 Karis's new favorite pastime is sneaking over to my purse and emptying the contents. She isn't very stealth about it, though, because she then decides to scream and hold the objects she finds above her head. I call this her "exultation". But Kembe has a sharp eye, and he just loves busting her and ripping her newfound toys out of her hands.