The kids had a book fair at school tonight. Each class was given different instructions for how to dress. India and Kembe's class were supposed to dress like pirates. This was kind of a hard sell for Kembe, since he has no clue what a pirate is. So I made the obvious choice for mothers trying to introduce their Haitian children to pirate culture: I showed him a Gilbert and Sullivan operetta. He was sold.
Jafta, on the other hand, was not so easy to convince. His class instructions were to come dressed as his favorite book character. He had seen a copy of the Captain Underpants book in the Book Fair pamplet they sent home, and was dead set that this was his costume of choice. We've visited this before, but again, this is the Captain Underpants costume he fashioned for himself:
After a long and heated discussion about why wearing his underwear and a cape to school would not be appropriate, he finally settled on doing to school dressed as a knight. But only if he could take his sword.
Here are my three swashbuckling heroes, ready for the school book fair: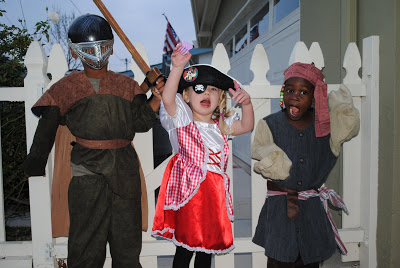 Now, take a guess what happens two seconds after this shot: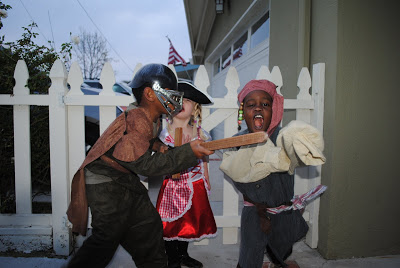 Kisses were administered, admonishments made, and the sword was left at home for the night.