I have a couple requests. I am gonna be messing around with some technical stuff on my blog soon, including officially dropping the current domain host so it is no longer my last name. (And yes, I might be driving a minivan now. And no, I'm not changing my blog name. My feelings remain.)
Some of you have kindly linked to this blog from your own blogs, and I am so flattered. If you have linked to me, would you mind making sure it is linking to rageagainsttheminivan.com, and not to howertons.blogspot.com? Once I get my act together and make the switch, the blogspot will no longer work.
Or if you want a fancy button, I whipped this up: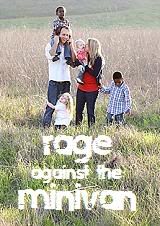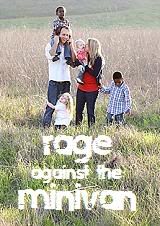 (That's a sneak peek of the photos my new friend Drew took. Is she amazing or what?)
Also, if you read this in a reader (which you should, because it makes blog-reading sooo much easier), then do me a favor and subscribe to my new feed. Or you can subscribe even if you don't use a reader – and then nothing will happen other than boosting my numbers and my self-esteem (which is precariously low on account of the minivan I'm driving now). You can do that by clicking
here
. This will make sure the feed stays the same as I'm making these changes.
Okay, one last request, and this might steal ten minutes of your time, but I would really appreciate it. I've been asked to be a contributor at a collaborative adoption blog called Grown In My Heart. I am so excited about this, because it's an amazing group of smart women, writing about adoption from all aspects of the adoption triad. Grown In My Heart is trying to get a workshop/session slot for the upcoming Blogher conference, which is a big-time blogging event. I know there are so many women online that have formed bonds by finding other women dealing with infertility or adoption issues. Wouldn't it be great for us all to get to sit in a room together? If you would take a minute and vote, I would really appreciate it. You have to register, but it is SO fast. CLICK HERE. Register or sign in. Then just click on "I would attend this". (You don't have to actually attend to vote). Once the link switched to "I would NOT attend this", it means you're done.
Thank you!