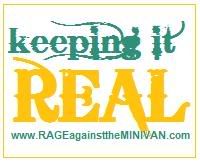 I have a love/hate relationship with mom blogs. On many levels, I love it, because it allows me to feel connected to other moms during this season where I am rather isolated at home. I appreciate hearing that I'm not alone, and reading that others are having similar experiences. At the same time, I am also aware that blogging can become a medium for us to present our "best selves": from detailing homemade crafts to posting stunning photos of our kids, a blog can become a show-and-tell for moms that glosses over the hard parts with good lighting and soft filters. I love reading blogs and feeling inspired – really I do – but I sometimes wonder how all of this is setting up our expectations for the daily grind of motherhood.
So . . . I've decided to host my own linkup/blog carnival/McLinky/what-have-you. And instead of asking you to link back to your best recipe or your cute homemade birthday party invites or your adorable handmade . . . I'm gonna ask you to link back to a post where you are keeping it real. Maybe you've had poop flung at you from the tires of your son's bike, or dropped raw egg on your shoe, or flashed the audience of a circus while nursing, or spilled a drink down your pants at your child's birthday. Or maybe it's just me.
But something tells that, while the specifics may vary, we've all been there.
So, I'll start. My "keeping it real" moment this week occurred when I was attempting to clean out my garage. Posting pictures of my garage alone could suffice – I believe I could be a candidate for a Hoarders episode with my garage in its current state. I was trying to at least pave a path for the children to play, and Karis was crawling all over the place, finding stray leaves and twigs (and silverfish? perhaps?) and attempting to put them in her mouth. I thought that I should go grab the excersaucer so I could have a way to keep her contained. But the excersaucer was all the way in the house . . . and so bulky and heavy . . . and here I was in a garage full of plastic boxes . . .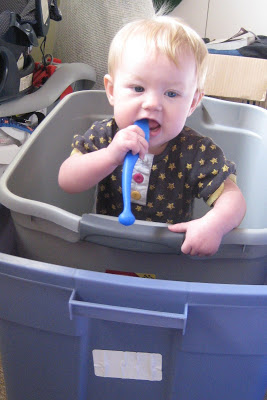 So what do you think I did? I put my baby in a box. In the corner. And then I let her play with a knife. BECAUSE IT WAS THERE, AND IT MADE HER HAPPY.
(Please also note the graveyard of infant carseats behind her).
So that's my shining moment for this week. Well, one of them anyways. Wanna play? Just link back to your own blog below. Write a post, or find an old post, and give us your best moment. Or should I say not-so-best moment.
I will keep this up for about a week, and post another one in a few weeks. Or months. Or I might just get distracted and forget about it completely, but for now I'm a little giddy about the spree of mediocrity this experiment might inspire.
You can copy the code below into your post to get the title graphic for your own post. Or not. The bar is very low here, gals.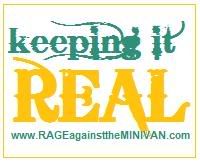 <center><a href=" http://www.rageagainsttheminivan.com"><img border="0″ src="http://i3.photobucket.com/albums/y51/howertons/keepingitreal.jpg" /></a></center>