*UPDATE – OUR SON RECEIVED HUMANITARIAN PAROLE AND IS NOW HOME. THANK YOU SO MUCH!!*
I am home from Haiti, safe and relieved. So many stories to tell, but right now we are mobilizing our energy towards trying to get our son home, too. It was extremely difficult to leave him in Haiti under the current situation. We are hearing rumors that there may be an option for getting him home under humanitarian parole. I know a lot of you are reading this blog and offering help. THIS IS HOW YOU CAN HELP. If this smacks of desperation, it's because we are desperate. We want to get him home. Watching the news since I've been home has made me even more aware of how bad things are over there. I am grateful to be home, but very upset to have left our son there.
We need to make some noise to get our congressman and senators working on this. I would also love you to use any contact you have with immigration, attorneys, press, or anyone who might have influence to get our story out there and put pressure on the state department to intervene. I am outlining the points below. There are also easy form letters on facebook here. If you are interested, let's flood our state reps from all sides: phone, email, and fax. If you contact people in Haiti, please be very sensitive to the fact that they are dealing with their own grief right now.
I've outlined the talking points below, which is followed by the contact info for some of our government officials. If you know of others, feel free to pass this along. I am willing to do press interviews IF they will allow me to talk about Heartline's relief efforts, or about the need for orphans to be granted humanitarian relief.
THE ISSUE: We have been in the process of adopting our son for 2 ½ years and were nearing the final stages when the earthquake hit. I was in Haiti visiting when the earthquake happened and I had to be evacuated and leave our son there. The government buildings that were processing our adoption were demolished. Many government workers are feared dead. Orphans in Haiti are in grave danger, and yet have willing families in the US who can care for them. When we left our son, he and the other children from the orphanage were homeless, sleeping outside of a missionary's house because of damage to the crèche and to the missionary's home. They are at risk of looting and robbery. Everyone in Haiti is at risk of food and water shortages and air-born disease due to the current situation. The local caregivers are focused on their own families, so the orphanage is short-staffed. Supplies are running low. The situation is desperate. THE SOLUTION: THE SOLUTION IS HUMANITARIAN PAROLE FOR ADOPTIVE CHILDREN. These children have willing families to care for them and can be brought to the US for care. While granting a humanitarian parole is outside the normal procedures, the United States government has granted them in the past (e.g. Cambodia and Romania). THIS IS NOT AN EXPEDITED ADOPTION. The adoption process is now completely incapacitated, but when it resumes the United States seeks to honor the adoption process established in Haiti. This is a humanitarian effort to care for these kids, and the adoption will be processed using the usual procedure at a later time. THE BENEFITS: Humanitarian parole for adoptive children benefits everyone involved. The kids are moved to safety. There is no cost to the government because these children have families ready to care for them. This frees up the orphanages in Haiti to care for more children. It does not circumvent the already established adoption process. It is ethical and compassionate. OUR FAMILY'S DETAILS: Our dossier entered Haiti's system in the summer of 2007. We have visited numerous times. We have a certificate from IBESR, the Haitian social services office, granting us permission to adopt. We have turned in that permission to the Haitian branch of USCIS. We have filed our I-600, which is the petition to classify him as a US citizen. Our homestudy and fingerprints are up-to-date. Our son's legal name is Keembert Estime, date of birth is 10/7/06. He lives in Port-Au-Prince. Orphanage is run by John McHoul of Heartline Haiti. If he is granted humanitarian parole, we can arrange for getting him home.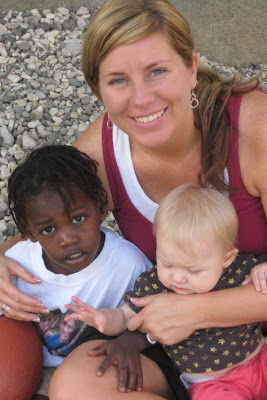 (taken about an hour before the earthquake)

Here are some people to contact:
The Honorable Barbara Boxer

United States Senate

112 Hart Senate Office Building

Washington, D.C. 20510-0505

202-224-3553

202-224-0454

http://boxer.senate.gov/en/contact/policycomments.cfm

Twitter: @Barbara_Boxer
The Honorable Dianne Feinstein

United States Senate

331 Hart Senate Office Building

Washington, D.C. 20510-0504

202-224-3841

202-228-3954

http://feinstein.senate.gov/public/

index.cfm?

FuseAction=ContactUs.EmailMe

http://feinstein.senate.gov/public/
The Honorable Dana Rohrabacher

United States House of Representatives

2300 Rayburn House Office Building

Washington, D.C. 20515-0546

202-225-2415

202-225-0145

http://rohrabacher.house.gov/Contact/Zip.htm

http://rohrabacher.house.gov/

Voice: 714-960-6483

FAX: 714-960-7806
Clinton Foundation

http://www.clintonfoundation.org/about-the-clinton-foundation/contact-us/contact-form
Raymond Joseph

Haitian Ambassador to US

embassy@haiti.org

p 202-332-4090

f 202-745-7215
Kenneth H Merten

US Ambassador to Haiti

Tabarre 41, Blvd 15 Octobre

Port-au-Prince, Haiti

Haiti-earthquake@state.gov

P 509 22 29 8000

F 509 22 29 8028
Hilary Clinton/Dept of State

U.S. Department of State

2201 C Street NW

Washington, DC 20520

Main Switchboard:

202-647-4000