Who is Kembert?
Kembert is Keanan is Kembert. We've been using his legal name in the press, in case someone decides to advocate on our behalf with the government. That is our hope in all of this.
I saw kids on CNN going home, and the State Dept issued a statement. Does that apply to you?
There are statements from the state department about emergency visas and news reports of some families being "reunited". Unfortunately this good news does not apply to us, or to most of the families waiting. These emergency visas are for children who were already legally adopted in Haiti, and waiting for the US to approve them. Most of us are not there yet and still need humanitarian parole.
What do I write to the congressmen/senators?
Great sample letters are here.
Why did you leave him in Haiti?
I've been emailed this question a lot today. This is an impossible situation and there is no right answer, but for our family we feel it's not wise to move to Haiti right now and put our other three children in danger as well.
Why were you wearing a different shirt in three different broadcasts last night, while Mark was wearing the same one?
I've asked myself the same question all day long.
Why haven't you called/emailed/facebooked me back?
Because of this: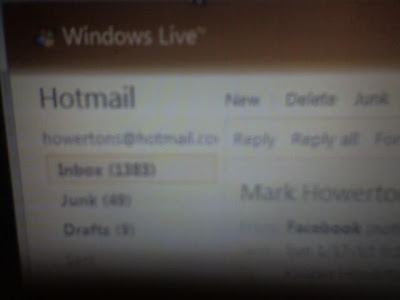 (that's 1383 new messages)
How many times have you cleaned up puke today?
Eleven. Eleven times.
How many times did you pretend to be breastfeeding so Mark would have to clean it up by himself?
Not nearly enough.
Why are you writing this blog post in interview style?
Because my recent media appearances have totally gone to my head. Now someone bring me a latte!