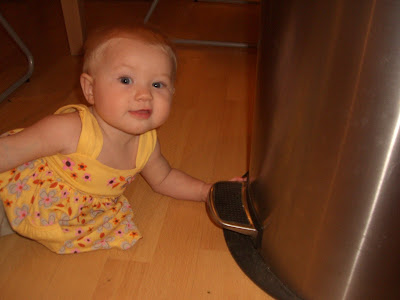 About two seconds prior to snapping this picture, I discovered Karis licking the foot pedal of our trash can.
You know, with my first child, I was so diligent in trying to keep the germs at bay. I doused our hands in sanitizer, I wiped down shopping carts, I put any dropped pacifier into quarantine status until they could be properly boiled. Until one day, I found Jafta licking the bottom of a shoe I had removed. And then a few days later, came upon him chewing on the wheels of his stroller. And I realized that no matter how hard I try, these kids will find new ways to disgust me, and to ingest germs. My new philosophy: don't bother. It will all just build up their immune system, right?
I have found my kids chewing on some really gross things in my day, but this week Karis topped the chart when I found her gnawing on the (now soggy) rawhide strap of an African drum I bought by the side of the road in Zimbabwe. God only knows what kind of animal that skin used to be on, or how many people touched it, or how long it sat on the floor of someone's hut. Oh well.
Nowadays, when I'm in Target and I see a new mom using an antibacterial wipe on the shopping cart, I resist the urge to stop her and say, "Oh, honey. Stop. Just stop. THEY WILL WIN."