Karis was fitted for her cranial helmet last week, and it should be arriving next week. In a not-at-all-shocking turn of events, our insurance does not cover said helmet. So, for the price of a boob job, we will be footing the bill to make sure she has a well-rounded cranium. Hopefully this will boost her self-esteem enough to avoid that boob job down the road. Good thing we live in the OC.
For now, I'm trying to figure out how we will decorate the helmet. All good parents decorate the helmet – it's a part of the "plagio culture". Decorating is the hot topic on all of the online support groups that I joined and never visited again. God forbid she just wear a plain old white helmet, right?
I'm trying to weigh out the pro's and con's of the ideas I've come up with so far:
Burqa
PROS: will completely mask the helmet, might show some solidarity with our Muslim friends
CONS: the whole "opression of women" vibe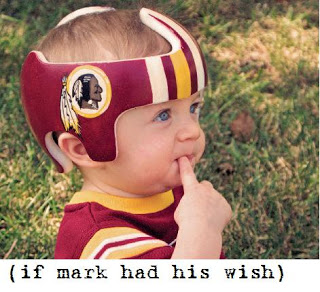 Nascar Helmet
PROS: will be very popular with my family in Florida
CONS: Nascar
Graffiti Art
PROS: hip, urban, shows her street cred
CONS: may not look good with onesies
Ed Hardy Baseball Cap
PROS: very trendy
CONS: very douchy
Von Dutch Baseball Cap
PROS: see Ed Hardy
CONS: see Ed Hardy
Viking Helmet
PROS: unexpected, makes a statement
CONS: might make nursing uncomfortable
Modge-Podged Scrapbooking Elements
PROS: will make people think I'm a crafty mom
CONS: will make people think I'm a crafty mom
Spiderman
PROS: Jafta would love it
CONS: mistaken for boy
Little House on the Prarie Bonnet
PROS: Anthropologie is so hot right now
CONS: not edgy enough
Ninja Headpiece
PROS: mysterious, bad-ass
CONS: won't look good with pink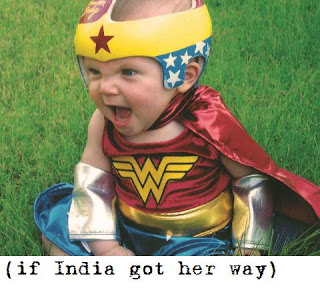 Butterflies, Flowers, et al
PROS: girlie, age-appropriate
CONS: lacking originality
Do-rag
PROS: has worn them before, have plenty in the house
CONS: too young for thug life
Kim's Wig from Real Housewives of Atlanta
PROS: will give her that sexy former-stripper look
CONS: too desperate, no money for matching boob job after paying for helmet
Well as you can see, I'm at a loss. Any other ideas?