Every once in a while I will be in conversation with somone who travels a lot, and they will say something like "Gee, I've racked up so many frequent flier miles, I don't even know what to do with them." And I will think about how badly we want to visit our son in Haiti, but feel too embarrassed to ask them to share the wealth. So I just smile and nod, and hope that maybe one day they will think of how their excess might be of use to an adoptive family like mine.
Since this technique of silence has not really yielded much, other than my head feeling like it might explode, I've decided to just put it out there. WE NEED TO GO TO HAITI. We would like to go several times in the coming year. I don't know when this crazy adoption is going to be final, but in the meantime we really want to be getting out there more to spend more time with Keanan as he is growing up. The problem is, flying our family to Haiti costs us about $4000. (That price is only if I have spend about 500 hours on various travel websites finding the very best deal – it can cost much more than that). However, flying to Haiti, because of it's close proximity to Florida, only takes about 25k frequent flyer miles.
So, if you happen to have an excess of miles that you are willing to unload, I am more than happy to take them off your hands It doesn't matter what airline. Even if we just got a domestic flight out of it, we can catch a cheaper flight to Haiti from the east coast. The way most airlines work, you would have to book the flight for us, and you would need at least 12.5 miles to avoid paying a fee. You can drop me an email (link on top right) and I will be your friend forever.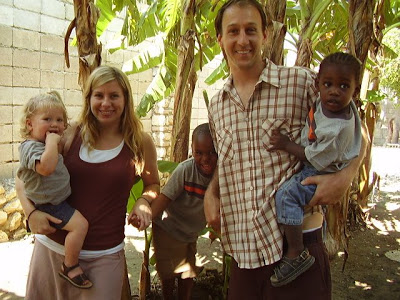 our family on our last trip together, over a year ago
Also, if you are interested in helping in other ways, Mark and Jafta will be headed down to the orphanage in a couple weeks and will be taking supplies again. I've created an amazon wishlist at this link, but you can purchase any of those items at Target, in any brand. We will be collecting supplies at our house and then filling them in suitcases to carry into the country, since these things are not readily available in Haiti.
Well, since I'm shamelessly plugging for your help in all things Haiti, let me also point out a few other options:
Tara is still collecting money for Medika Mamba, a nourishing peanut butter that is saving the lives of malnourished children. Even if you aren't interested in giving, this is a great read. GO READ IT!!
Salem is selling t-shirts to help adoptive families cover their costs. They have a great message and are really cute – go look.
The sewing school is still going strong and there are lots of purses you can buy to support micro-enterprise in Hait. Check it out.