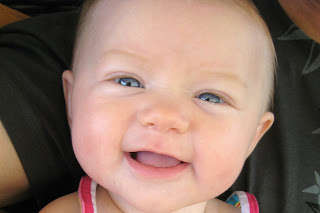 Karis turns 3 months old today. Three months is a beautiful thing, where you start to emerge from the fog of newborndom and you settle into some semblance of normal. Well, a new normal, anyways. I am managing to feel a little less day-to-day crisis, and I'm slowly finding my rythm. I still haven't had a trauma-free grocery store run, but most days I am managing to get showered and dressed and leave the house at least once. And not cry. That is the new measure of success.
I am also getting a little relief from the Post-Partum Crazy I've been dealing with. I'm slowly downgrading from a full-blown DSM diagnosis to my previous baseline of mild neurosis. (Let's just say, in the height of my anxiety, that a part of my decision-making involved weighing out how awkward it would be to check myself in to a psych ward where several of my former students now work). One of these days I'll look back and laugh and write a funny blog post about how balls-out crazy my mind was these last months. But for now, it's too soon. TOO SOON, people.
You know what else it's too soon for? Michael Jackson jokes. Ask me how I know.