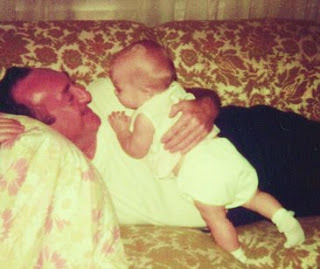 My Pop-pop passed away last week. Tonight is his memorial service in Orlando, where I grew up. I'm really sad to miss this celebration of his life.
My Pop-pop was my mom's father. Pop-pop was a brilliant man, and had an amazing wit. Though he could often be grumpy, he would always surprise you with a sarcastic comment or clever comeback, even in the midst of an argument. Pop-pop had a sense of humor about himself and about life. I still remember bonding with him over Seinfeld, and how he would just laugh and laugh, especially when Jerry's retired Floridian parents were on the show. I know he got a kick out of how similar they were to him. And who can forget Pop-pop's commitment to David Letterman? Even in his 80's, he would go to bed at 6pm, but set his alarm for 11:30pm to wake up and watch Letterman. And yes, we suggested recording it, and offered to Tivo it over the years. But he had his ways, and Pop-pop was a man set in his ways.
Speaking of Pop-pop's habits, he was also a fan of talk radio, but he refused to listen to it on the surround sound multi-media system Mom had installed in the living room. Instead, he would sit with a small, antenna-fueled FM radio that crackled and buzzed. He would get so worked up listening to his favorite political pundits, that you were wise to give him a bit of space for a few hours following, or you might just get an earful about how the country was "going to hell In a handbasket". When I was young, I couldn't believe how riled up he could get about politics. But apparently it is genetic . . .
Pop-pop had his own unique way of showing love. When you hear the phrase "actions speak louder than words," that's exactly the kind of example Pop-pop set for the rest of us. He wasn't a very verbose person (I think being surrounded by very loud women may have had something to do with that). I will remember him by all the little things he did. He was always looking out for us in the practical ways. Did we have enough gas? Did we need an oil change? Did we remember to shut the garage door? Did we need anything from the store? He kept the pantry full, he kept the garage clean, and he kept our flat-irons OFF. He was the master organizer, and also the best at sending packages. He used to send us care packages growing up, with all of our favorite cereals and snacks. The box may have required a chainsaw to open, but once we did, we were stoked.
It was very sad for me to see my once healthy and strong grandfather become sick at the end of his life. Pop-pop was a very active guy, and never wanted any of us to fuss over him or worry. I know that it was difficult for him to be so dependent in the last few months of his life, because his love language was caretaking for his family. His care in our lives will be greatly missed.