I write for a mommy blog called Mama Manifesto, and one of the perks is that companies will sometimes send us products to try. I've been hoping to get some new maternity clothes, because I've made a commitment not to buy any more for the next three months, and my collection is getting old. So far, I've gotten three maternity message tees, none of which I will wear.
The first one says "Fertile Myrtle". This one is so completely inaccurate that I'm not sure whether to laugh or cry. But even if I was one of those fertile myrtles, there is no way I would wear a shirt that said so. Because I don't think the 20% of married women struggled with infertility or miscarriage want to see me walking around in a t-shirt that throws it in their face more than a pregnant belly already does.
The second one says "Counting Down the Days" and then has a picture of a martini glass. Now I have had some serious cravings for a mojito in the last few months, but if I'm counting down the days, I hope it's to see my baby daughter, and not to have a drink. Again, not a message I want to wear around.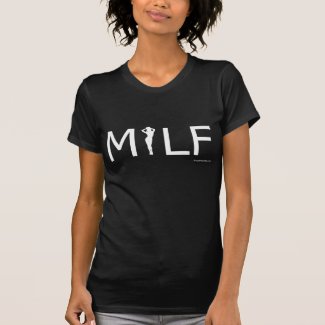 But the last maternity tee is the real beauty. It simply says "MILF".
If your not sure what that stands for, I'm sorry to be the one to enligthen you, since it's a bit crude. Let's just say it means "Mom I'd Like to Fornicate". Sure.
I don't even know where to start on this one. First of all, self-appointing one's self as a MILF and then wearing a tee that says so is about the lamest thing ever. You either have to be really, really narcissistic or insanely insecure to need to broadcast that. Second of all, even if you were in that small percentage of women who actually look hot when pregnant, wouldn't you rather allow people to come to their own conclusions on your level of attractiveness? Because all a t-shirt like this is really doing is inviting people to look you up and down and say, "um, no, not really".
Living in Orange County, the nation's capital of self-obsession, of course I see moms wearing MILF tees, and the male version (I Heart MILF's) on a weekly basis. Let me just put it out there: if you are wearing this,
I am judging you
. I am judging you along with those Hummer drivers, and guys who walk like their arms are too muscular to hang straight, and people who wear their Bluetooth thingy in church, and middle-aged women whose lips look like
this
. I'm sorry to judge. Truly I am. But some things are so idiotic that I cannot help myself. And don't even get me started on the onesies I've seen that say "My Mom is a MILF". That is so creepily
Oedipal
that any mom who puts that on their kid should start a therapy fund a.s.a.p.
So I guess I will have to make my own maternity message tee. One that fits my own unique sitation. Maybe:
"I don't always have cankles"
or
"My other kid is in Haiti"
or
"If you don't know me, don't touch my tummy. And even if you do. . . back off already."
or
"No, I'm not about to pop. I actually have three more months to grow even more monstrously huge. But thanks for asking"
Any other ideas for me?