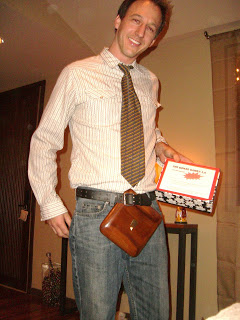 For almost ten years now, a group of us have gotten together at the holidays for a white elephant gift exchange. Over the years, several gifts have made it through the rotation year after year, and never fail to get some laughs. But the gift that keeps on giving has always been The Gonad Game.
While I'd like to take credit for this game myself, I must admit that the original conception began circa 1993 in a dorm room at Cincinnati Bible College. My hubby and his roommate, "Kid Joe", had a plush rabbit his mom gave him for Easter that they called the Gonad Rabbit. The rule was simple: catch people off guard, and throw the rabbit at their 'nads.
Being the pinnacle of maturity that my husband is, he was determined to share the joys of the Gonad Game with those he met. It quickly caught on amongst his fellow youth ministry staffers when we moved to California. Then, one year, I decided to box a version of the game and give it to a friend at his birthday party. Hence, the Orange County version of the Gonad Game was born. We have spent many a party laughing our adolescent butts off as friends (most of them pastors, elders, and professionals) become absorbed in a competitive game of striking each other in the privates. Inappropriate? Yes. But I cannot tell you how funny it is.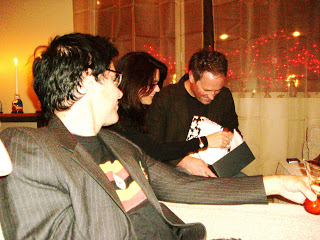 This year, I had a feeling The Gonad Game that I gave my friend six years ago would make a resurgence at our gift exchange. I was right. The party quickly turned from a gift exchange into a "try to open that gift with a hand over your family jewels". But I also had a new holiday surprise up my sleeve – The Gonad Game 2.0 was our offering. That's right, an updated version, included a wearable "gonad guard". And of course, my sick sense of humor was fueled even more when our lead pastor choose the gift – the one guy in the room who is probably most uncomfortable with our childish antics. Mwahahahahaha.
There were some other great submissions this year. Mark nabbed a Viagra tie. I think it will really impress his clients. Shawn won a body-building book for women written by Arnold in the 1970's. There were two Jesus action figures that made the rounds. And the hottest item yet: a framed photo of Mark and I taking a bubble bath, that has also been in circulation for about five years (Moya is holding it on the right). Man, I love making people uncomfortable.