Grrr.
My husband just came back from the gym. He hasn't been to the gym in, like, years. Remember how before I got crazy sickly pregnant, I was trying to run every day? And I was working my butt off, running even twice a day sometimes, trying to work my way up to three miles a day? And how it took me like a month to get to that point, and yet I was still sore and hurting and no where near a ten minute mile . . .
Yeah. So.
My husband goes to the gym tonight, runs three miles in less than thirty minutes, and then comes home and announces it like he just took the trash out. Again, he hasn't worked out in years. And just decided one day that he'll run three ten-minute miles.
Blech.
Not to mention, this is the guy who does absolutely no weight tr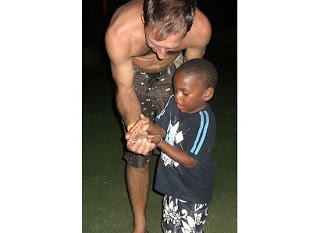 aining whatsover and his arms look like this:
He's the guy who eats an entire pint of Ben and Jerry's nearly every night by himself. And pretty much whatever else he feels like, whenever he feels like it.
When I get to heaven and get to ask the Big Guy all of my Big Questions, I may ask why he allowed so much suffering in Africa. Or why people are born with disabilities. Or why he allows parents to abuse their children.
OR I MIGHT JUST ASK WHY PEOPLE LIKE ME EAT HEALTHY EVERY DAY AND WORK THEIR ASSES OFF JUST TO TRY TO GET TO AN ACCEPTABLE WEIGHT WHILE OTHER PEOPLE DO NOTHING AND EAT EVERYTHING AND STAY SKINNY. WHY GOD WHY!?!?
Sure, maybe I should be feeling grateful right now. Grateful that he's able to run at all after a bad accident and years of learning to walk again. Grateful that my husband has a rockin' body. Grateful that his freakish muscle tone and metabolism probably mean he'll be a healthy old man with a long life.
But right now, I'm mostly just bitter.