Poor India. The middle child phenomenon is already in full effect. Today is her 2nd birthday and she doesn't even know it, because I had to wake up at 6am and spend the morning at a high-risk ultrasound screening for her younger unborn sibling. (Good news – baby looks great). Now I am exhausted and pretty much letting PBS do the parenting, and pretending like her birthday is tomorrow.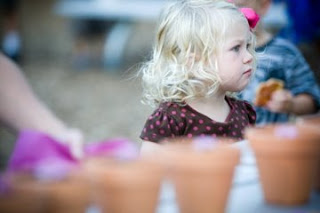 Not to mention, I haven't even planned a party for her. I am just too tired . . . between raising two kids and cooking a life sucking parasite much-loved baby in my tummy, I just don't have the energy. I have ridiculous expectations for throwing parties. Maybe because I have good friends like this. (Seriously, did you look at those pictures? Is Ali the next Martha Steward or what?). When Jafta turned two, we had a backyard bash with a bouncehouse, a sing-along, homemade cupcakes, and gourmet quiche and mimosas for the grownups. But the 2nd child will spend her birthday at Build-A-Bear with three friends, her family, and a queasy mom who hopes the whole thing is over in less than thirty minutes. The kids and I just watched a video on the Build-A-Bear website and Jafta said, "after we go to that store, when is India's party??" Clearly a party-spoiled child. And then he asked what friends were coming. I told him the guest list, and he seemed very concerned that only three of her friends were coming. "Only three kids? That's not very nice!" Thanks for the guilt trip, Jafta.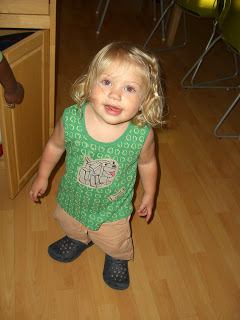 Alas, that's the lot of the middle child. But we sure love her!
Some fun facts about India at two years old:
1. She would eat 10 bananas at one sitting if I let her.
2. She refuses to wear pants. "No like pants, mama. Wanna wear a dwess. Pretty dwess"
3. She pretends to be her aunt Sarah. A lot.
4. She likes to tie a blanket around her neck and pretend to be a superhero like her big brother.
5. She loves riding in her bike seat with daddy and going to the bagel shop for a juice box.
6. She likes to play with my makeup when I'm not looking.
7. She has been to a few football games with daddy and already has aspirations to be a cheerleader.
8. She is a shoe hound and if you leave yours out, she will try them on and walk around in them.
9. She is fiercely independent
10. Some of her favorite sayings: "Go away", "No Jafta/Tanner", "India do it", and "It's mine".