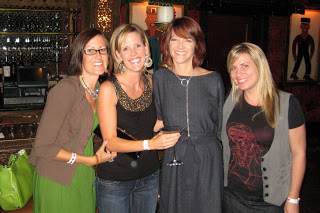 A group of us got together for a big night on the town last week, to see Martin Sexton at the House of Blues. The HOB in Hollywood has a "secret area" backstage called the Foundation Room. It's a members-only room, reserved for backstage cavorting and celebrity elbow-rubbing. So of course, we all wanted to get in to the Foundation Room. I mean, if we're all paying for sitters, go big or go home, right?
Mark and I have been lucky enough to be back there a few times before, back in the day when when one of our friends was in Social Distortion and played there a lot. But we had no connections to Martin Sexton (other than one of us doing a pretty good impression of him), so I had to get creative.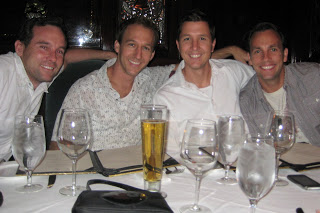 Now, I can't reveal all my secrets online. But here are some helpful tips in case you are ever in the LA area and want to party like a rockstar (or, in my case, a 30-something pregnant woman).
1. call ahead pretend like someone in your group is a really, really big deal.
2. using the perfect mix of bravado, pretension, and condescension that Hollywood finds irresistable, act like they would be stupid to turn down your request for access.
3. when you show up, act like you are completely comfortable, and maybe even unimpressed.
4. ask if you can sit in the house seats, as if you've done it a million times before
5. do not, under any circumstance, walk around like a bunch of starry-eyed idiots and ask every server you see to take a picture of the whole group (we failed to follow this rule, as you can see)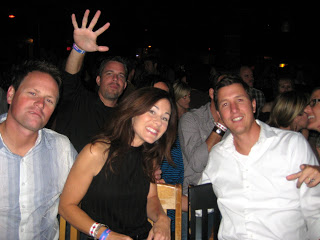 6. let's be honest. show up early and go in the middle of the week when the place is empty anyway and they just wanna sell some drinks.
All joking aside, we had a really fun night. The food was amazing, the Foundation Room really is all that it's cracked up to be, and we did end up sitting in the comfy house seats instead of in the standing-room-only crowd. For a tired pregnant lady wearing impractical high-heeled boots, that was the best part of the night!
Oh, and Martin Sexton put on a pretty awesome show, too.