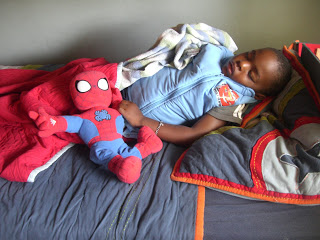 Jafta got a bag of hand-me-downs from one of his good friends, and before I got to preview it, he pulled out a Cars ski vest. He was so excited about this ski vest that he put it on, immediately. Despite the fact that we have no air conditioning, and despite the fact that it was nearly 100 degrees out, he wore it all morning, and insisted on wearing it during his nap, too. I really can't express how hot it was in our house this day. If I had a macro lens I could show you the sweat beading on his forehead.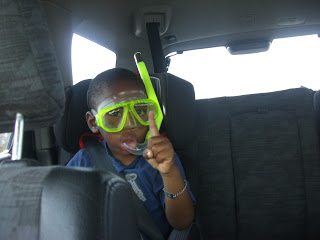 ****************************************
We took a trip to the desert this weekend, 'cause it wasn't hot enough at our own house. We told him we were going, and he was really excited to try out his new snorkel gear. He grabbed it from the garage, put it on himself, and wore it the entire 120-mile drive out to the resort. Again, if I had a macro lens, I could show you the saliva pooling in the bottom of the breathing gear from being in his mouth for so long.