Last week Oprah raved about a certain turkey burger from The Donald's high-end restaurant Mira-Lago. It sounded so good, but also kind of complicated. Orpah's version is
here
. Well, leave it to me to find an even easier way to make this that involves very little prep. Laziness is a spiritual gift.
1 cup Healthy Harvest organic Granny Smith applesauce (no chopping required)
1 cup Trader Joes chopped onions (again, no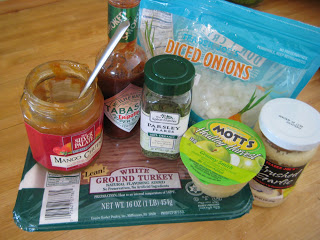 chopping required)
1 lb ground turkey breast
2 Tbsp. salt
1 Tbsp. black pepper
2 tsp. chipotle Tabasco™
1 tsp lemon juice
2 tbsp dried parsley (instead of fresh)
1/4 cup The Silver Plate mango chutney (this brand is already pureed)
I mixed this up, formed them into patties, and let them sit for 2 hours. They are very soft, so used a grill pan instead of a grill for best results. We served them on Ezekiel sprouted grain hamburger buns with an extra dallop of chutney. YUM!