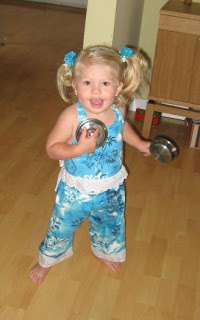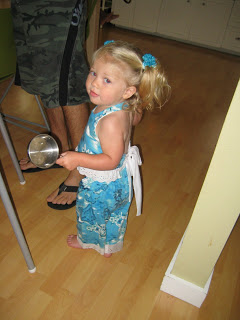 India has been blessed with lots of amazing hand-me-downs. The one I put on her today was kinda funny. It is a Hawaiian print halter top (cropped) that ties in the back with a big bow. It has matching gaucho pants and both are trimmed in eyelet lace. I can't decide if it is totally cute, or really tacky. I think she's rockin' it, but I also think it could be obnoxious.
Mark said the same thing when he came home and saw her. He took one look and said, "wow, um, what's up with this outfit?"
"I know!! Is it adorable or horrible?" I asked him.
"It's both," he said. "It's a-horrible."
Now I feel compelled to say, if you are the person who gave her this outfit, and it was your child's favorite, WE LOVE IT. We would never want to bite the hand of a gifthorse in the mouth. Or whatever the appropriate saying is here.