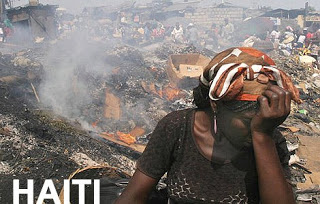 I'm finding myself a wee bit stressed about our upcoming trip to Haiti. I was distracted and travelling a lot over the past two weeks. Yesterday, I turned in grades at Vanguard and then launched a blog with my friends. Two big hurdles done, and now my brain is ready to think about our upcoming trip. The gravity of the situation is hitting me like a ton of bricks. The country is in a desperate state.
I find myself worrying about some things that are a bit disturbing to think through:
what if there are new riots on the day we travel, and we get stuck at the airport for the week?
what if we are robbed en route to the orphanage?
how can I disguise India so no one will try to kidnap her for a ransom?
why did I choose not to take malaria pills?
will my kids be harmed by wearing 100% DEET for a week straight?
where will India sleep? will she sleep at all?
what will we eat? what will my kids eat?
what if the armed guards at the orphanage don't show one day, and we get looted?
will I have trouble getting Jafta out of the country since his passport has his old name?
what if rioting shuts down the streets and we can't come home?
how bad is Dengue fever, really?
If you know me, you know I am prone to exaggerated fears. But with what is going on in Haiti right now, it is seriously hard to gauge. (I did end up stuck in Haiti on my first trip as a teenager, hiding out with a missionary couple while rebels shut down the streets during a coup d'etat). I have such a value for being a global, missional family, and for exposing my kids to the world-in-need. But today I am wondering if I am crazy for taking them.
But then, I think, Keanan lives there EVERY DAY. He is a part of our family. And we have to risk a little to be a completed family, at least for a little bit, until he comes home.