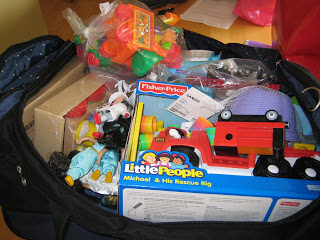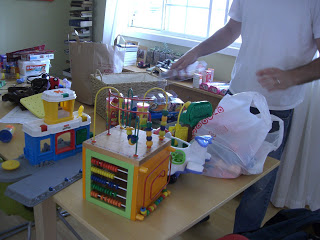 We leave for Haiti in the wee hours tonight, and it feels like we've been packing for the last week. We are like santa's workshop over here. Our house was full of toys, clothes, and supplies for the orphanage. We filled four suitcases, and then still had some room, so Mark went to Target and bought four trikes to put in the last two suitcases! I can't wait for the kids to see them. We also have 10 lbs of Starbucks coffee for
John and Beth
, who run the orphanage. They deserve it! They work so hard and they are amazing people.
We've been training Jafta to sleep in a tent, so that we can cover it with a mosquito net while in Haiti. He thinks it's great fun. I laid out the kid's clothes and sprayed them with mosquito repellant, bought lots of DEET, and we've all been taking malaria pills. Except for Mark – he has taken no precautions and scoffs at my efforts. If he gets malaria, DO NOT FEEL SORRY FOR HIM.
Also, a huge THANK YOU to all of you who donated toys, meds, suitcases, and money. We have over $600 to give to the orphanage for rising food costs.