This is a post sponsored by Evite®.
I have worked really hard to create and maintain a culture of presence at our family meals. It hasn't been easy over the years. When the kids were younger, dinnertime was difficult. At any given meal, it's likely that Karis was having a meltdown over her bowl being the wrong color, or Kembe and Jafta were kicking each other under the table, or India was crying because a vegetable was placed on her plate. Remember the
mealtime scene from The Miracle Worker
? It was a little bit like that. Only there were four of them.
Now that they are older, their behavior is less crazy but the distractions are still there, just in different forms. Especially now that my kids all have devices. It's a constant battle to keep the dinner table a device-free zone.
I have to admit, this was a come-to-Jesus for me personally, because while I was good at making the kids keep their phones or tablets off the dinner table, it was really tempting to make excuses for why I needed my own there. I don't look at it throughout the meal, but I still set it by my plate and stole glances. I made excuses for it – what if I needed to take a photo? Or got an emergency call? But the truth is, if I really want my kids to honor our mealtimes as sacred, I've got to model it. So now, no devices is the hard and fast rule. Even my own. They all go into the tech closet during meals.
We have a number of family meal traditions to make dinnertime meaningful and enjoyable. Our kids' favorite mealtime activity, by far, is to ask each other questions from our
Table Talk
box. I bought these on a whim on Amazon last year and they were so worth it . . . they really do inspire great conversations.
Another of our routines has been to start a gratitude journal. We usually do "highs and lows" in the car after school, which is a nice way to hear about any struggles the kids had during the day, as well as to help them identify some positive aspects of their day. This simple journal forces us to identify, once a day, something we are thankful for. We go around the table and I write them down. In addition to the positive practice in the moment, it's also a fun log to look back on.
Evite has partnered with Common Sense Media, my favorite destination for researching the appropriateness of movies and tv shows for my kids, to encourage parents to make the most of family time and in-person conversations through device-free dinners. Evite has always been about bringing people together face-to-face, and they want to strengthen those moments by encouraging everyone to the start the year off right by pledging to go device-free for at least once a week during dinner time. I've taken the pledge, and encourage you to do the same. And by agreeing to take the pledge, one lucky winner will receive an OpenTable gift card for a device-free dinner with their family and friends.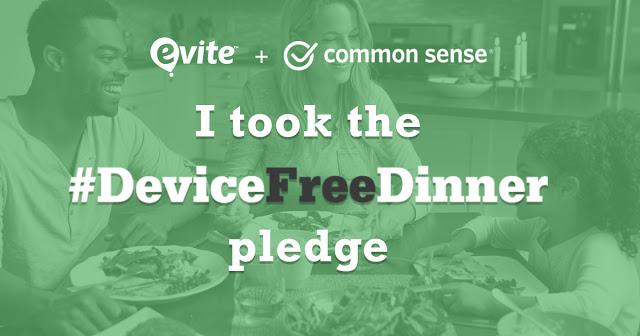 You can take the pledge, and enter to win an OpenTable dinner for your family, at this link.