We've all watched the "I have a dream" speech. We've all felt the tears well up as Martin Luther King Jr. paints a picture of diverse children holding hands. Most of us have probably quoted him to that end. Hell, I've done it. Several times.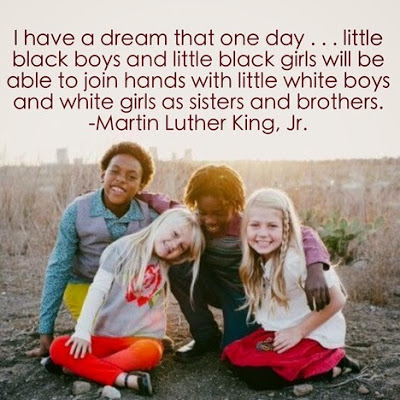 MLK's words on racial harmony were inspiring and world-changing. But he wasn't just about peace and love. He was also about fighting injustice and economic disparity, challenging the connection between religion and racism, and calling out white folks about their apathy. Here are some lesser-known words from Dr. King that are still just as relevant today.
"A true revolution of values will soon look uneasily on the glaring contrast of poverty and wealth. With righteous indignation, it will look at thousands of working people displaced from their jobs with reduced incomes as a result of automation while the profits of the employers remain intact, and say: "This is not just." It will look across the oceans and see individual capitalists of the West investing huge sums of money in Asia, Africa and South America, only to take the profits out with no concern for the social betterment of the countries, and say: "This is not just." It will look at our alliance with the landed gentry of Latin America and say: "This is not just." The Western arrogance of feeling that it has everything to teach others and nothing to learn from them is not just. A true revolution of values will lay hands on the world order and say of war: "This way of settling differences is not just." This business of burning human beings with napalm, of filling our nation's homes with orphans and widows, of injecting poisonous drugs of hate into the veins of peoples normally humane, of sending men home from dark and bloody battlefields physically handicapped and psychologically deranged cannot be reconciled with wisdom, justice and love. A nation that continues year after year to spend more money on military defense than on programs of social uplift is approaching spiritual death. America, the richest and most powerful nation in the world, can well lead the way in this revolution of values. There is nothing to prevent us from paying adequate wages to schoolteachers, social workers and other servants of the public to insure that we have the best available personnel in these positions which are charged with the responsibility of guiding our future generations. There is nothing but a lack of social vision to prevent us from paying an adequate wage to every American citizen whether he be a hospital worker, laundry worker, maid or day laborer. There is nothing except shortsightedness to prevent us from guaranteeing an annual minimum—and livable—income for every American family. There is nothing, except a tragic death wish, to prevent us from reordering our priorities, so that the pursuit of peace will take precedence over the pursuit of war. There is nothing to keep us from remolding a recalcitrant status quo with bruised hands until we have fashioned it into a brotherhood."
― Martin Luther King Jr., Where Do We Go from Here: Chaos or Community?
"Time itself is neutral; it can be used either destructively or constructively. More and more I feel that the people of ill will have used time much more effectively than have the people of good will. We will have to repent in this generation not merely for the hateful words and actions of the bad people but for the appalling silence of the good people. Human progress never rolls in on wheels of inevitability; it comes through the tireless efforts of men willing to work to be co-workers with God, and without this hard work, time itself becomes an ally of the forces of social stagnation. We must use time creatively, in the knowledge that the time is always ripe to do right."
― Martin Luther King Jr., Why We Can't Wait
The contemporary Church is so often a weak, ineffectual voice with an uncertain sound. It is so often the archsupporter of the status quo. Far from being disturbed by the presence of the Church, the power structure of the average community is consoled by the Church's silent and often vocal sanction of things as they are."
― Martin Luther King Jr., Letter from the Birmingham Jail
"One of the great tragedies of life is that men seldom bridge the gulf between practice and profession, between doing and saying. A persistent schizophrenia leaves so many of us tragically divided against ourselves. On the one hand, we proudly profess certain sublime and noble principles, but on the other hand, we sadly practise the very antithesis of these principles. How often are our lives characterised by a high blood pressure of creeds and an anaemia of deeds! We talk eloquently about our commitment to the principles of Christianity, and yet our lives are saturated with the practices of paganism. We proclaim our devotion to democracy, but we sadly practise the very opposite of the democratic creed. We talk passionately about peace, and at the same time we assiduously prepare for war. We make our fervent pleas for the high road of justice, and then we tread unflinchingly the low road of injustice. This strange dichotomy, this agonising gulf between the ought and the is, represents the tragic theme of man's earthly pilgrimage."
― Martin Luther King Jr., Strength to Love
"This is why many liberals have fallen into the trap of seeing integration in merely aesthetic terms, where a token number of Negroes adds color to a white-dominated power structure. They say, "Our union is integrated from top to bottom, we even have one Negro on the executive board"; or "Our neighborhood is making great progress in integrated housing, we now have two Negro families"; or "Our university has no problem with integration, we have one Negro faculty member and even one Negro chairman of a department."
― Martin Luther King Jr., Where Do We Go from Here: Chaos or Community?
"So we have been repeatedly faced with the cruel irony of watching Negro and white boys on TV screens as they kill and die together for a nation that has been unable to seat them together in the same schools."
― Martin Luther King Jr., "Beyond Vietnam" speech, 1967
"Lamentably, it is a historical fact that privileged groups seldom give up their privileges voluntarily. Individuals may see the moral light and voluntarily give up their unjust posture; but, as Reinhold Niebuhr has reminded us, groups tend to be more immoral than individuals."
― Martin Luther King Jr., Why We Can't Wait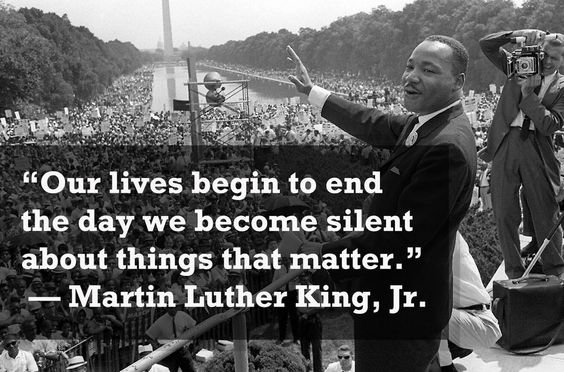 "Our lives begin to end the day we become silent about things that matter."
― Martin Luther King Jr., "I Have a Dream" speech, 1963
I must confess that over the past few years I have been gravely disappointed with the white moderate. I have almost reached the regrettable conclusion that the Negro's great stumbling block in his stride toward freedom is not the White Citizen's Counciler or the Ku Klux Klanner, but the white moderate, who is more devoted to "order" than to justice; who prefers a negative peace which is the absence of tension to a positive peace which is the presence of justice; who constantly says: "I agree with you in the goal you seek, but I cannot agree with your methods of direct action"; who paternalistically believes he can set the timetable for another man's freedom; who lives by a mythical concept of time and who constantly advises the Negro to wait for a "more convenient season." Shallow understanding from people of good will is more frustrating than absolute misunderstanding from people of ill will. Lukewarm acceptance is much more bewildering than outright rejection."
― Martin Luther King Jr., Letter from the Birmingham Jail
"Too unconcerned to love and too passionless to hate, too detached to be selfish and too lifeless to be unselfish, too indifferent to experience joy and too cold to express sorrow, they are neither dead nor alive; they merely exist."
― Martin Luther King Jr., Strength to Love