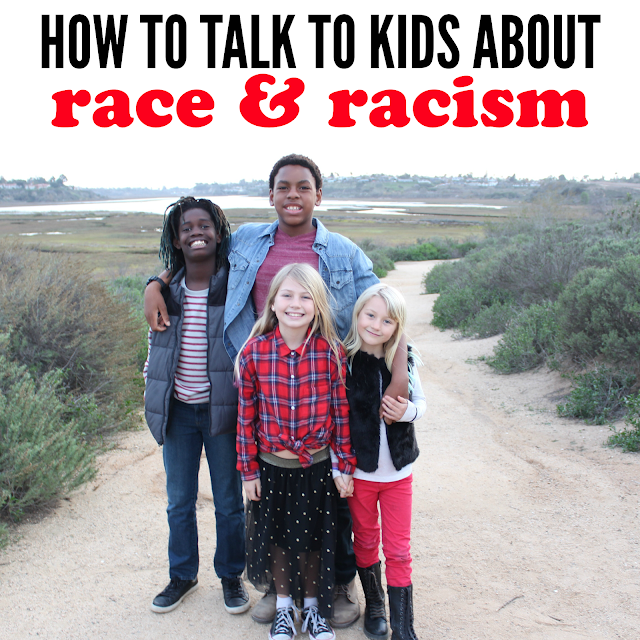 Given the events this weekend in Charlottesville, I thought I would share some resources for talking to kids about racism, including both the historical context of our country as well as the present-day issues of prejudice, systemic racism, and white supremacy.
I am a firm believer that we should be talking to our kids about racial differences from a very young age. When racial tensions bubble up in our country, parents often want to figure out how to talk to their kids about the specific events. But it's important to note that this conversation needs to be proactive. Our race conversations with our kids should include current events, but they should also be happening outside of external crisis. Conversations about race should be ongoing and interwoven into family life.
I don't know that there is a universal timeline that fits every child, because maturity levels vary. But below I've listed some suggested books for each stage that can help parents start the conversation. I really believe that children are never to young to start learning about racial difference and the importance of fighting prejudice, and that books can be the best way to start that conversation.
Age 2+ – talk about physical differences, including race and gender, and the importance of accepting everyone, talk about prejudice of all forms, maintaining an open forum for kids to report and discuss instances of prejudice
We're Different, We're the Same
The cast of Sesame Street help teach toddlers that everyone is the same on the inside, and it's our differences that make this wonderful world an interesting and special place.
When God Made You
This book tells the story of how God created each person with their own unique traits and abilities, and how God unconditionally loves each of us. I have a hard time getting through this one with my kids without bawling. It's a truly touching story, and fitting for Christian families but broad enough that it would be enjoyed by anyone with a general belief in God.
The Colors of Us
Through the eyes of a little girl who begins to see her familiar world in a new way, this book celebrates the differences and similarities that connect all people.
Red: A Crayon's Story
A blue crayon mistakenly labeled as "red" suffers an identity crisis in this book about being true to your inner self and following your own path despite obstacles that may come your way.
Early Sunday Morning
This book follows June and her family through their weekend routine as she prepares for a special performance leading the children's choir at church on Sunday morning. Along the way, she visits the barbershop with Mommy and Troy, gets her hair done by Mommy, receives a special dress from her aunt, and shares her family ritual of getting ready for Sunday morning service. It's a lovely slice of life with an underlying message of overcoming fear.
Whoever You Are
An illustrated celebration of the world's diverse cultures, swith a look at both our similarities and differences.
Age 4+ – introduce other cultures, including food, art, and role models, emphasizing acceptance and diversity
Amazing Grace

Grace loves to act out stories. This cute story is about a girl named Grace who desperately wants to play Peter Pan in her school play, but is told she can't because of her race and gender. It's a great simple story of rising above prejudice.
Martin's Big Words: The Life of Dr. Martin Luther King, Jr.

Told from the perspective of Dr. Martin Luther King's sister, this picture book biography brings his life and the profound nature of his message to young children through words from some of his most beloved speeches to tell the story of his life and his work in a simple, direct way.
A Chair for My Mother
This is the story of a family pulling together after a fire destroys their home and possessions, Rosa, her mother, and grandmother save and save until they can afford to buy one big, comfortable chair that all three of them can enjoy.
If A Bus Could Talk: The Story of Rosa Parks

In this book a bus does talk, and on her way to school a girl named Marcie learns why Rosa Parks is the mother of the Civil Rights movement. At the end of Marcie's magical ride, she meets Rosa Parks herself at a birthday party with several distinguished guests. Wait until she tells her class about this!
Grade 1+ – discuss civil rights in broad terms, introducing heroes
100 African-Americans Who Shaped American History

This resource book offers brief biographies of African American educators, entertainers, inventors, authors, athletes, and others who have made important contributions to American life.
Sweet Clara and the Freedom Quilt

This book recounts the story of Clara. a seamstress who dreams of a reunion with her mother, who lives on another plantation. Clara overhears two slaves talking about the Underground Railroad. In a flash of inspiration, Clara sees how she can use the cloth in her scrap bag to make a quilt with a map of the land that will bring freedom.
The Story Of Ruby Bridges

This story follows six-year-old Ruby Bridges and her family in 1960 as a judge orders Ruby to attend first grade at an all-white school, Ruby faces angry mobs of parents who refuse to send their children to school with her. Ruby's story of courage, faith, and hope is a power historical lesson.
Rosa
This book is an inspiring account of an event that shaped American history, as Rose Parks refused to give up her seat on a Montgomery, Alabama, city bus. Rosa Parks is still one of the most important figures in the American civil rights movement. This picture- book tribute to Mrs. Parks is a celebration of her courageous action and the events that followed.
A Kid's Guide to African American History: More than 70 Activities (A Kid's Guide series)
This book covers a wide range of historical African Americans, such as the first man to die in the American Revolution, the inventors of peanut butter and the portable X-ray machine, and the first person to make a wooden clock in this country. It's a great resource for parents and teachers interested in fostering cultural awareness among children of all races. The book also includes more than 70 hands-on activities, songs, and games that teach kids about the people, experiences and events that shaped African American history.
Grade 3-5+ – discuss specifics of Jim Crow, slavery, underground railroad, assassination of MLK, and other civil rights heroes, and other atrocities based on ethnicity (Holocaust, Rwandan genocide, etc)
The Gold Cadillac

A personal, poignant look at a black child's first experience with institutional racism, this story follow two siblings as they travel from Ohio to Mississippi. As they travel deeper into the rural South, they encounter suspicion and anger, and for the first time in their lives, the children know what it's like to feel scared because of the color of their ski
Through My Eyes

This book is a more mature telling of the story of Ruby Bridges. In 1960, surrounded by federal Marshall's, Ruby walked through a mob of screaming segregationists and into her school.
Sounder
Sounder follows the faith of a poor African-American boy in the 19th-century South. The boy's father is a sharecropper, struggling to feed his family in hard times. Night after night, he and his great dog, Sounder, return to the cabin empty-handed. One day, they return home to the smell of ham cooking . . . but after a visit from the sheriff, his life takes an unexpected turn.
Let the Circle Be Unbroken
Let the Circle Be Unbroken is a story of a small Mississippi town in the 1930s, and the struggles of its black community. Picking up where its precursor, Roll of Thunder, Hear My Cry, leaves off, Mildred Taylor recounts the trials of this small community through the characters of the Logan family.
Grade 7+ – discuss current global examples of ethnically-motived violence and oppression, issues of social justice, current circumstances of slavery, etc.
The Hate You Give
The story of Starr Carter, a 16-year-old who sees her childhood best friend fatally shot by a police officer, emphasizes the need to speak up about injustice.
All American Boys
Two teens—one black, one white—grapple with the repercussions of a single violent act that leaves their school, their community, and, ultimately, the country bitterly divided by racial tension.
Bud, Not Buddy

This story for more mature readers tells the tale of 10-year-old Buddy, who decides to go in search of his father.
Roll of Thunder, Hear My Cry
Another book for more mature readers, this is the story of one African American family fighting to stay together in the face of brutal racist attacks, illness, poverty, and betrayal in the Deep South of the 1930s.
Narrative of the Life of Frederick Douglass
The famous abolitionist provides graphic descriptions of his childhood and harrowing experiences as a slave in this narrative biography. Published in 1845 to address doubts about his origins, it remains a powerful story of this influential man.
Chains (Seeds of America)
This book opens on the Revolutionary War, as thirteen-year-old Isabel begins a fight for her own freedom. Promised to be freed upon the death of their owner, she and her sister instead become the property of a cruel couple with no sympathy. When Isabel meets Curzon, a slave with ties to the Patriots, he encourages her to become an instrument in fighting for the revolution. This story illustrates the lengths we can go to cast off our chains, both physical and spiritual.

I really want to emphasize that the books I've listed above are not just suggestions for African American families or transracial families. All of us should be introducing these concepts to our kids. A recent study, outlined in the book NurtureShock discovered that most white parents don't ever talk to their kids about race. The rule is that because we want our kids to be color-blind, we don't point out skin color. We'll say things like "everybody's equal" but find it hard to be more specific than that. If our kids point out somebody who looks different, we shush them and tell them it's rude to talk about it. It's kind of like the sex talk. If we never talk to our kids about sex, they are gonna have to figure it out on their own. Which will probably lead to some not-so-great influences filling in their gaps of knowledge.
Here are a few practical suggestions for developing an environment in which diversity is valued:
1. Take an inventory of your home's diversity. Are your toys sending a subtle message? Make it a point to buy dolls and action figures of every race. Watch how your kids react.

3. Take inventory of your own racial biases. Be careful with the language you use around your children. Avoid making stereotypical statements or racial jokes in front of your children. (or ever).

4. Look for opportunities to immerse your family in other cultures. Try to find situations where your family is the minority. This is a great stretching and empathy building opportunity for you and your kids. Try attending a minority church event or a cultural festival. Again, observe your child's reactions and open a dialogue about how that feels.

5. Read books that depict children from other races and countries.

6. Just observe. Watch how your children plays with children who are different, whether it be skin color, gender, disability, or physical differences. Talk about it. Let your child know that you are a safe person to process their feelings and reactions with, while at the same time guiding them to accept children with differences.

7. Talk to your children about racial prejudice. Ask them to recall any they have observed. Encourage them to be advocates against bullying towards children who are different.

7. Lead by example. Widen your circle of friends and acquaintances to include people from different backgrounds, cultures and experiences.