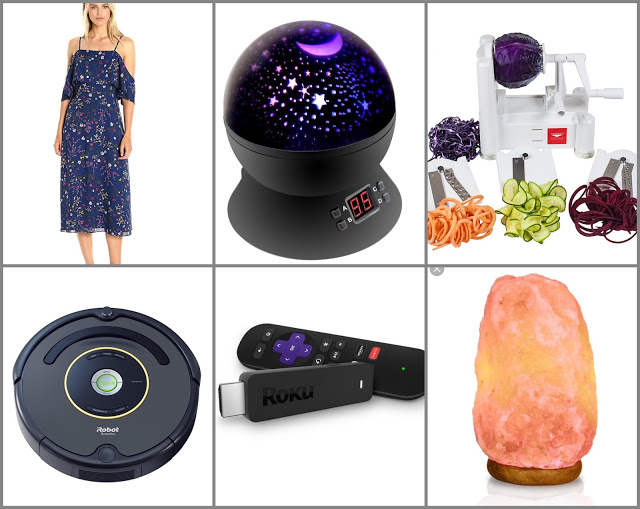 Cute ruffle neckline dress – I tried this one on when I was looking for a cocktail dress a few months ago and loved it but felt the price was too high and returned it. Just ordered it for almost half off. This is a great crepe fabric and very flattering, and can be dressed up or down depending on your shoes and accessories.
Star projector nightlight – We got this for the kids at Christmas and it was the biggest hit. It casts stars and moons all over the ceiling. Even the older kids like it.
Roomba robotic vacuum – When my kids ask me for something ridiculous, I always answer back with "and I want a pony and a robot that cleans my house." Well now I have one of the two.
Vegetable spiral slicer – I love spiralizing veggies. This isn't the one I have, but 9000 people are in love with it.
Roku streaming stick – We have these sticks on every tv in our house and it's how we cut the cord to cable. Roku can access hulu, netflix, amazon, and more, and it's easy and portable.
Instant Pot pressure cooker – What can I say that hasn't already been said? Totally worth the hype.
Himalayan salt lamp – These salt lamps release ions that are supposed to have amazing health benefits, but I love them because they just let off a gorgeous warm light. I've got one in my living room and just ordered one for every room at this low price.