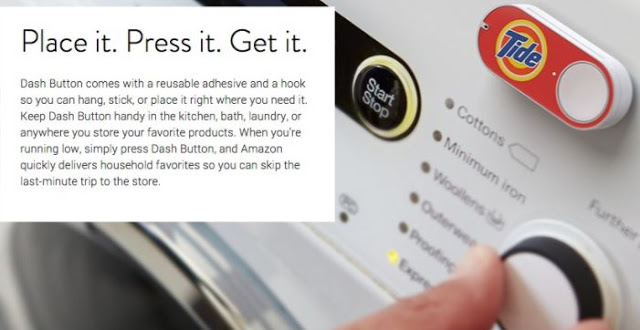 My house is in a constant state of toilet-paper crisis.

I don't know what it is. It's a pretty important item . . . and yet it is the one thing I consistently forget when I go shopping. And with four kids we run out at an alarming rate. There are a few aspects of adulthood that elude me. Running out of gas is one, Running out of paper products is another.

It seems like we are also always out of paper towels. And I've been known to do many last-minute trips to the drugstore for tampons, which seems like something I could have mastered in my 42 years, but no.

Enter the Amazon Dash button. It's a button that interacts with your Amazon account and orders the things you need, when you need them. It is battery-powered and about the size of a pack of gum, so you can place it in a spot when you are usually reminded of what you need (for example, by the toilet for toilet paper). Press the button and the device uses Wi-Fi to instantly order items you have pre-selected from Amazon.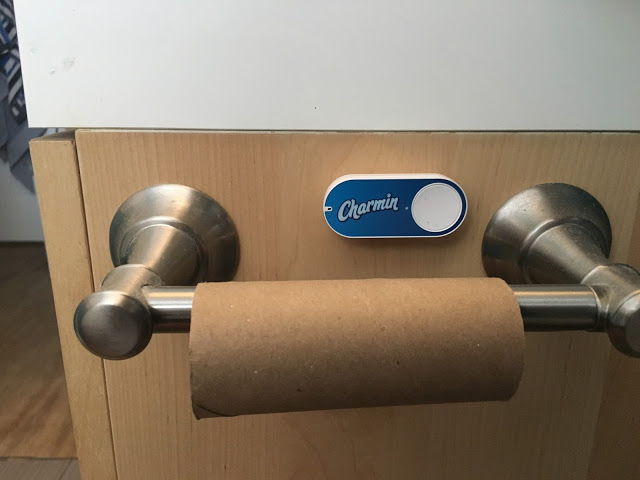 You can place a Dash button on the trash can to order trashbags, in the laundry room for detergent, or in your medicine cabinet for any number of toiletries. You can program your buttons using the Amazon App and select the specific products that you want to order when you press the button. You can change your product selection to other available products at any time. The prices are the same price you'd pay ordering from Amazon the old-school way. Except you used a magical button! Orders always ship fast and free via Prime shipping.
The Dash buttons are growing in popularity. For example, a number of brands have more than half of their total Amazon orders coming via Dash Button devices . . . like Folgers, Gain, Glad, Peet's Coffee, Pepperidge Farm Goldfish Crackers, Persil, and Ziploc.
But rather than taking my word, try it for yourself. I didn't totally "get it" until I got my own, and it's easier than ever to do because Dash is having a promotion for only $0.99 on several of their most popular buttons if you use the code DASHMOMS at checkout at this link.
You can get a button for toilet paper from Charmin or Angel Soft. If you need paper towels, try Bounty. Stay stocked with trash bags with a Glad button, and keep things clean with Clorox Disinfecting Wipes.
They also have a number of green products that you can have on hand at the push of a button: Mrs. Myers soap products (their basil scent is my favorite but you do you) along with Seventh Generation baby wipes, paper towels, and toilet paper.