I've been wanting to share a before-and-after of the kitchen in our new (old) home. Last fall, we moved back into a home we had lived in before and kept it as a rental. I have absolutely no regrets about that decision. We are back in a neighborhood full of kids and friends, and it's a much better fit. A little smaller than our previous house but the time they spend outside with friends or in the pool means we don't even notice.
There was one thing I was really, really sad to leave at our previous home: the kitchen.
I had designed this kitchen myself and it was full of features I loved . . . but the big one that I felt was a game-changer was having a range in the island. It meant that I could cook while engaging with my family, or with friends when entertaining. I felt like that island made the kitchen a central gathering spot. I wanted this in the house we moved into.
The kitchen in our current house was a bit outdated. As you can see, the stove faced the wall, and it was placed right next to a door that slammed into me when I was cooking as the kids came and went. I also felt like the maple cabinets were a little dated. I installed them almost 15 years ago, and I decided to try painting them. I hated the way the cabinets and the floor were nearly the same color, and I also wanted a different surface on the floors as I was tired of finding the bamboo buckling or molding after every spill.
Rather than an island, this kitchen had a wall with pantries and a refrigerator. The result is that I couldn't see anyone in the living room while I was in the kitchen . . . so the kids ended up plopping on the floor of the kitchen when I was in there working. I wanted to create an island, and move the fridge to the other wall, to give this house a more open concept. But I was limited on both time and budget.
First, I had to remove the wall that the fridge was against, which meant moving a load-bearing 4×4 and reinforcing the beam. This was actually the biggest part of the project and required an architect and a structural engineer. But it occupied a ton of space in the kitchen and with it gone the whole room up, so it was worth it.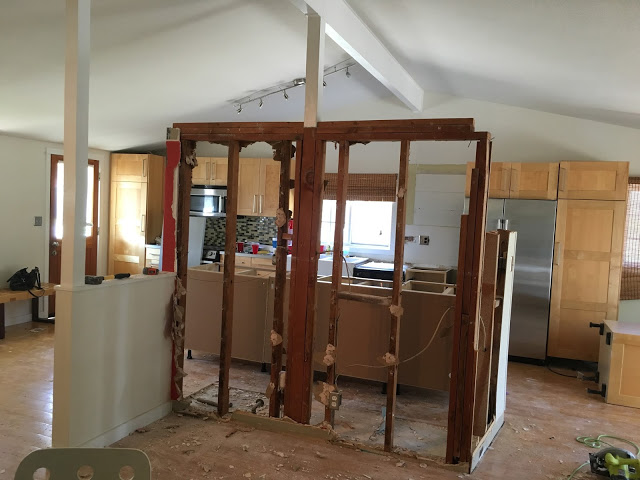 I spent a ton of time planning to figure out how to reconfigure the kitchen. The cabinets were old, and the store I purchased them from has since discontinued them completely, so I had to work with what I had. After much scheming, I figure out a way to repurpose every single cabinet without having to buy anything new. This came with much crying, and measuring and re-measuring, and gnashing of teeth. I cannot tell you how many times I moved those cabinets to try to get things just right. But I did it. And I love it.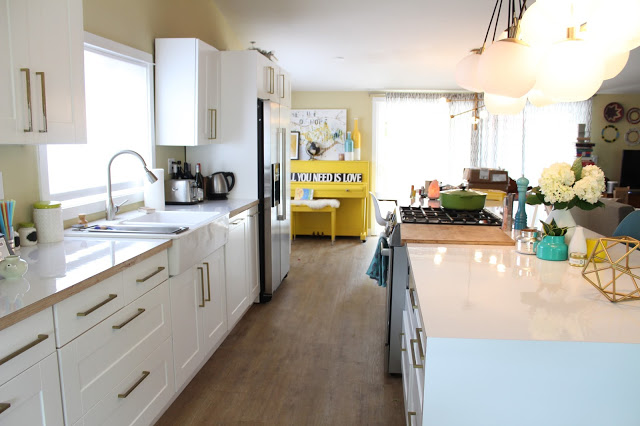 I painted the cabinets white, and then used the same countertop surface I used in our previous house: white laminate over exposed plywood. It is a really clean, modern look and so economical. I spent about $900 on countertop materials, and because I repurposed all the cabinets, I only had to pay to paint them. The big expense in this kitchen remodel was the beam, and the installation of the rearranged kitchen. cabinets. I also splurged on a new range and new floors.
Since I was moving the kitchen around, it was the perfect excuse to justify new flooring. I spent a good deal of time debating what surface to use. We had used bamboo in our previous two houses but it was just so high-maintenance and prone to buckling with any moisture. With a pool going in the backyard, we needed something hardy. I looked at real wood, but the cost was astronomical and I was worried about the path to and from the pool getting worn down or selling with water. I looked at laminate but had the same concerns about durability. Friends kept telling me to check out some of the new luxury vinyl plank products that emulate real wood, but I was skeptical. I did a ton of research, and everything pointed to Flooret as being the best on the LVP market. Their vinyl planks are oversized to look more natural, and they are textured with a matte finish, so they don't look like vinyl at all. I ordered some samples and quickly became convinced. And with the low cost and ease of installation, coupled with the fact that it could withstand wet kids traipsing in and out of the house all summer, it was a no-brainer. I went with Flooret's large plank line called Modin, and I couldn't be happier.
This kitchen update made a huge difference in the feel of the house. The kitchen feels like the center of the home. I can cook and kids and friends can gather. I can see all of the action from the kitchen – I've got views of the front yard, the backyard, and the living room when I'm standing at the range.
I'm loving my new kitchen and it's been one of those few times where the money spent really did return on the investment with a lifestyle change. I've already got so many memories from the last few months of having friends and family gathering in here, and I can't wait to make more.