What I Want You to Know is a series
of reader submissions. It is an attempt to allow people to tell their personal stories, in the hopes of bringing greater compassion to the unique issues each of us face. If you would like to submit a story to this series,
click here
. Today's guest post was submitted by Taylor K. Arthur.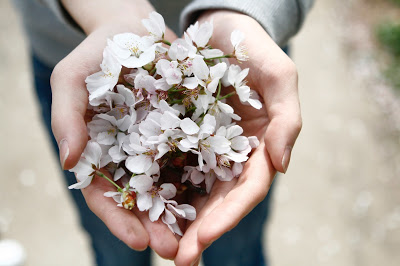 "You have turned my mourning into dancing;
you have taken my sackcloth and clothed me with joy,
so that my soul may praise you and not be silent.
O LORD my God, I will give thanks to you forever.
Psalm 30:11-12
Thank God for children and flowers. I don't mean ""thank God,"" like ""thank God"" the roast wasn't over-cooked or ""thank God"" the blueberry stains came out of another tiny shirt. I mean ""thank God,"" fall down on my knees and raise my hands to the sky, ""Thank God for children and flowers.""
Every spring since we buried Caleb, I am amazed anew at the persistence of nature. Even as we still feel winter's chill in March and April mornings, the fibers of life refuse to yield, no matter the harshness of our winters or the darkness of night. They pop up undeniable shoots of color, demanding attention in the pouring down rain.
March brings fully round the deepest grief of my life; it also brings forth bulbs popping, green shooting. It was on a Wednesday of Holy week that I brought my first-born son into the world, only to bathe him and baptize him and wrap him in burial clothes. But it was also a Wednesday in Holy week when I took my little gaggle to the park to meet dear friends as we chat and drink coffee, chase after stray ducklings, kiss war-wounds, and convince the three-year olds one rock per visit is enough to take home.
For several months now, I have been low: heavy, gaping, with little relief . . . it's not something I can take more meds for. Believe me; I've had that conversation with my psychiatrist. He asks me one question: ""Is there joy in your life every day, Taylor?""
I smile at him as I sit on the leather chair in his office and ponder the twisted bliss of my every day. My mind floods with story times in the pirate tent, falling asleep at nap time with a teething miracle child nuzzled into my arms, peeling apples for a crisp at the kid's table and being told, ""Good job, Mom! You're a good cooker."" I think of how all of my ""shoesies"" are disappearing and reappearing throughout the house, separated and stowed away by a toddling shoe thief.
I smile back at my doctor, at his kind eyes: ""There is joy in every moment.""
I used to think that I could separate my life into strands, unraveling the sad from the happy, and the grief from the joy. The older I become, however, the more I realize that grief begets joy if we allow its soul-carving to be filled with the Holy Spirit. What is lost gives birth to new eyes of gratitude: what I used to pass over, now I stop, kneel, and give thanks for.
I have known this, but I forget it . . . like Peter walking on water for a moment, I lose my focus on Jesus and sink. But I am re-identifying myself with gratitude, resolving again to grab hold of everyday thankfulness.
So, this spring, as I do every spring, you will find me in the yard digging up dandelions and cursing at slugs. I will take multiple breaks to play swords or push a swing, rescue some little person from danger or kiss an owie. I will give thanks for the friend who brought me a pallet of hot pink tulips, only half of which I had time to plant. I will give thanks for the tulips, hot pink lipstick to the burgeoning face of our front yard, and marvel at how each flower twists and contorts to ensure its needs are met. I will scold the toddler who decapitates my precious hot-pink gifts with his chubby little hands, and then scoop him in my arms and thank God he is well enough–alive enough–to assault tulips and throw himself on the ground in a tantrum when I won't allow him to execute all of my flowers.
I think that if I am to be who God intended me to be, I must somehow learn to hold both the grief and the joy, not denying one or the other. I must somehow give thanks in all things, and search for God in the midst of my every day. He is here, sitting on the couch with me as I write this and fend off chubby fingers who threaten to delete my work in every moment. He is here when I grieve. He fills it all with a glory I cannot conjure or even imagine. He fills it all, and then calls it good. Amen.
May you see the twisted bliss of your every day.