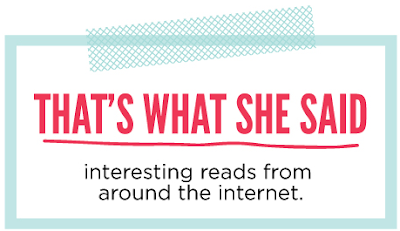 Here are some of things I read this week that made me think. (These are just snippets – click on the title to read the whole thing).
"But what jobs they were. While military budget cuts and sequestration have hurt the economy here in recent decades, some 75 years ago the hungry wartime machine needed manpower, and womanpower, to fill its depleted ranks. This helped open the door for black female mathematicians, who were recruited through job bulletin boards and newspaper ads. Their job title? "Colored computers."

"It is said, and no doubt with considerable truth, that every Japanese in the United States who can read and write is a member of the Japanese intelligence system." — FBI Report
"There are a variety of reasons women don't run for office — sexism, funding, and unwanted cultural perceptions of women in power, to name a few. But organizations like She Should Run are hoping to change that by giving women concrete steps to take and constant motivation to follow through…. "The very act of planting a seed with a woman or girl … and encouraging her to see elected office as a place where she can make a difference is incredibly important."
The true meaning of 2016's celebrity-death tsunami
from Will at
Philly.com
"First and perhaps foremost, this wasn't "2016's fault." Years are not human beings. Stop anthropomorphizing them! Bears don't roam around Jellystone Park stealing pic-a-nic baskets, nor do sponges cook crabby patties and live in a pineapple under the sea. Simply put, calendar years don't murder people.
And yet there is a reason so many notable people died in 2016…."
This is what happens when you reply to spam email from James Veitch's TED Talk
A hilarious account of what can happen if we reply to spam email messages…
"Suspicious emails: unclaimed insurance bonds, diamond-encrusted safe deposit boxes, close friends marooned in a foreign country. They pop up in our inboxes, and standard procedure is to delete on sight. But what happens when you reply?"
7 ways to survive New Year's Eve with children from Emma at The Guardian
"Turn around even the least promising gathering by uniting guests against a common foe: you. Change the Wi-Fi password, then explain to your family that they all need to work together to solve a series of puzzles (you can easily download age‑appropriate ones from the internet) to "unlock" the new one. Then withdraw with a thriller and some hoarded snacks as they bond intensely over how much they hate you."