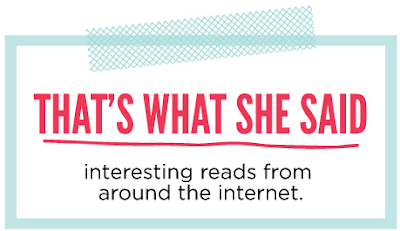 Here are some of things I read this week that made me think. (These are just snippets – click on the title to read the whole thing).
"Calment's obituary said she "used to eat more than two pounds of chocolate a week and treat her skin with olive oil, rode a bicycle until she was 100," and had smoked nearly all her life, until her doctor made her cut that and her Sunday glass of Port at age 120. The French!"
"No matter how early we get up, school mornings always seem to end up rushed for us. They start out relaxed and slow …but as the clock ticks forward, the stress levels increase drastically. …I get annoyed, voices are raised, the chaos is complete. Until…"
"Liechtenstein: Experience princely moments,
Cameroon: All of Africa in one country,
Latvia: Best enjoyed slowly,
Qatar: Where dreams come to life,
El Salvador: The 45-minute country,
Iran: You are invited"
'It's unprecedented in our history': Trump's election inspired millions in nonprofit donations by Colby at The Washington Post
"It's unprecedented in our history," said Wier. "The response is inspiring. We're seeing people do bake sales for us; we're getting envelopes with cash — we've never seen that before. We're getting people reaching out saying, 'I want to volunteer. What can I do?'"

"The meme took off, but people forgot all about the family originally behind the photo. That was fine with the Griners.
That changed in 2015, when Justin Griner, Sam's dad, learned that he needed a kidney transplant."