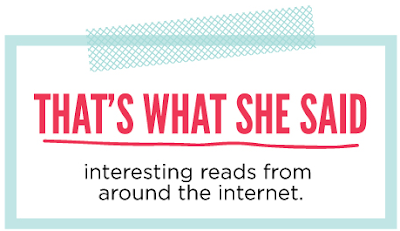 Here are some of things I read this week that made me think. (These are just snippets – click on the title to read the whole thing).
"I've decorated for the holidays more times than I care to admit. Between clients and editorial projects, I'd guess that I have a century's worth of holiday decor under my belt.
So this year I wanted to try something a little different and find a few looks that will last through the holidays and into the new year. With longevity on my mind, I started thinking about tassels. Regardless of season, tassels are one of my favorite home decor objects, so I figured why not try to craft a few holiday looks around greenery and wreaths and some of my favorite passementerie."
"The Hot Coffee documentary is must viewing for a lesson on how easily you can turn a lie into conventional wisdom. Def a relevant antecedent to all the "fake news" discussion right now."
"This would not happen again, and everyone knew it. It was not just that there might never be another African American president of the United States. It was the feeling that this particular black family, the Obamas, represented the best of black people, the ultimate credit to the race, incomparable in elegance and bearing. "There are no more," the comedian Sinbad joked back in 2010. "There are no black men raised in Kansas and Hawaii. That's the last one. Y'all better treat this one right. The next one gonna be from Cleveland. He gonna wear a perm. Then you gonna see what it's really like." Throughout their residency, the Obamas had refrained from showing America "what it's really like," and had instead followed the first lady's motto, "When they go low, we go high." This was the ideal—black and graceful under fire—saluted that evening. The president was lionized as "our crown jewel." The first lady was praised as the woman "who put the O in Obama."
"Sometimes I look at my peers or those who are younger than me and I think: they have it together. They bought a house, they live debt-free, and their life isn't an artful navigation of student loan officers, creditors, and creative accounting. And for a moment I step into that comparison trap and before the claws snap I fall back. That's their life, their definition of happiness, their path — not mine."
"Please consider sponsoring a millennial today, and help them live the lives they portray on Instagram."

Adventures in Parenting: Tips to make Christmas morning last longer from Suzanna at Sea Coast Online
"As a child on Christmas morning, I can remember sitting in the middle of a mountain of discarded wrapping paper and foil bows with every single present already ripped opened and haphazardly played with. It was 7:30 a.m.
Now what?
So much thought and energy goes into this very day and I can't have it be over before the coffeemaker sputters out its last drop of fresh brew. Time, stop! Ditto in your house? Here are some ideas for prolonging the magic on Christmas morning and keeping everyone entertained and happy throughout the day."