What I Want You to Know is a series
of
reader submissions. It is an attempt to allow people to tell their
personal stories, in the hopes of bringing greater compassion to the
unique issues each of us face. If you would like to submit a story to
this series,
click here
. Today's guest post is by
Elizabeth Chennamchetty
.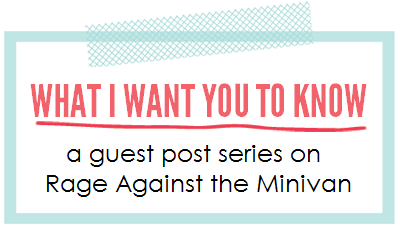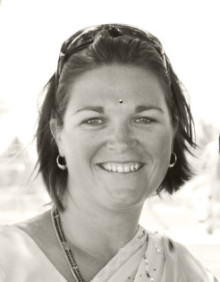 The following story happened to us this past week. I did not send these
letters. I just chose to share our experience through them.
From the Mother
——————
Dear Hospital,
We needed help this weekend. You came through! You kept us safe and alive and comfortable. Your staff is friendly and competent. They know how to treat a child with a medical emergency, make him as comfortable as possible, help relieve his fear.
My child needed something I couldn't give him. It is an unbearable feeling. I was helpless and worried. I am certain watching my children struggle is the worst experience I will ever have.
I also felt hopeful and relieved when I saw staff doing everything they could for him. I appreciate your care and attention to his medical needs. The child life team is invaluable. They make every procedure less scary and explained what was happening in a digestible, child friendly way. Even after we concluded the treatment wasn't working and we'd need to be admitted, in the middle of the night, the staff was kind, patient, calming, and knowledgeable.
You saved a life this weekend. I am grateful.
I appreciate how the registration team comes to the bedside. I didn't want to leave my baby in his most vulnerable state. I couldn't leave him. I stayed by his side for his entire stay. Thank you for that kindness.
I am writing this letter because I would like to share our admission experience with you. I'll prefix it with the following information.
It is completely understandable that a hospital needs to know who's who. That the medical staff needs to identify status, and age, and name, and relationships. One of my degrees is in Health Care Management. I get it. You need to get it right. You need to understand relationships and legalities. This stuff is important. That is why I have provided our information, not once, not twice, but three times. That's why about a year ago, after a similar experience, I got a babysitter to watch my three young children so I could drive to the hospital (during a non-crisis time) to sit down with a staff member and provide all the legal documentation you could possibly need to verify my realness in relation to my child.
I also appreciate that because my son has needed care pre and post adoption, our situation isn't the norm. But, I also know I can't be the only one. People have aliases, legally change their names, and merge medical records all the time.
The following experience is why words matter.
A short time after being treated in the ER, the admissions representative came to our bedside. She wasn't mean. She did not use an assertive tone. But, she seemed indifferent. And, the vocabulary she used did matter. It mattered to me and it mattered to my child, who was in distress in the ER.
The admissions cart was wheeled to our bedside by a mild-mannered lady who began by asking me to confirm, "Patient name?"
I provided my sons name.
"Who are you?"
"Elizabeth," I respond.
"Are you his real mom?" she asks.
"Yes. I am." I'm a little caught off guard. I wasn't expecting her to ask me that question.
"So, he's not a foster kid?"
"No. We've adopted him. He is mine."
My son is paying attention to this exchange. We are standing next to him as he is struggling to breathe on his gurney.
"He is my son. I am his. He is mine."
"Well did you bring a birth certificate or court order?"
"No. I don't carry around a birth certificate wherever I go." This is not the first time I've been asked this. "The hospital has already scanned all our information. I thought it was important that everything be up to date. We adopted him over two years ago." He's lived with us much longer. "It should be in the computer already."
"I don't have access to that information." I'm told.
"The last time I met with medical records they scanned everything. I had met with other people before this. I don't know why you don't have the information." I'm getting a little flustered, still aggravated by the words that get under my skin: real mom.
She leaves and comes back later for a photo ID. In my rush out of the house I left my wallet on the counter and she needed our insurance card. Our neighbor brought it to me.
"Can I have his other information?" She asks.
We review his previous identity, as best I know.
We were discharged a few days ago. Since then, I have tried to make a follow up appointment on two separate occasions and again have been asked to identify my relationship, which I expected since our medical record is clearly inaccurate. I have been told to take a birth certificate, court order, and documentation to prove my relationship with my son to each department we work with. This is paperwork I have submitted on three separate occasions already.
Please look into your medical records and correct this unfortunate documentation glitch. I am his mother and it is irrelevant to your admissions team whether or not he was ever a foster child. You have had no problem billing our private insurance, putting my name on copay and deductible bills, or addressing correspondence to me directly. His adoption does not add value to his admission narrative and does not need to be reviewed in detail every time we visit the ER. I would like him to learn and own his story on his own terms.
Additionally, I've never gone to an appointment and been asked for a birth certificate for my biological child. She is simply treated for whatever ailment she has, no questions asked. I've never had to provide any documentation for her.
Please provide some sensitivity training to your staff.
Sincerely, Mommy
From the Child
——————
Dear Hospital,
We had to visit this weekend. It was scary. I needed help. The doctors and nurses helped me. The child life team was really nice to me. They really know how to play. Your Mr. Buzzy Bee made the needle less scary. The light up teddy bear distracted me when you were helping my body get better. Things that are really scary in a hospital were a little better because of Mr. Buzzy.
The nurses were friendly. The doctor took care of me. The respiratory team talked to me about my oxygen tubes. They brought me dinosaurs that got to watch me from a shelf.
When my Mommy had to do paperwork you guys brought a cart right up to my bed so she could stay with me. The cart had super cool wheels and the computer zoomed around the ER on that cart visiting everyone. I'm glad my Mommy didn't have to leave me when you got our information from her.
But then it was confusing. You asked who my real mommy was. My mommy told you she's my Mommy. But then you asked, yeah…but is he a foster kid? I have a name. My mommy said I'm hers. You asked if she brought proof that I'm hers. She answered your questions, but I know she was getting frustrated. I don't understand why you would ask my Mommy if we are real?
Sincerely, Little boy
Take Away
——————
Some people these days are arguing that words don't matter. That political correctness is ridiculous. If you are different than the norm, as in the case of a foster/adoptive child, you somehow deserve to be marginalized, so you should just deal with insensitivity.
My son knows his story. He knows he is adopted. He knows he has a tummy mommy and a forever mommy. He is also five years old. He deserves to be spoken to in an age appropriate way. He doesn't remember anyone but us, we have been his parents for most of his life. But that isn't really the point. In a crisis, when struggling to breathe, to have to listen to me explain that I'm really real, that I am his Mom, that I didn't bring proof of who he is to me, adds stress to his medical situation. It's irrelevant how much of this he internalized. He took note and new something was wrong with me, or him, or both. He noticed that I was being questioned about my status in his life and that defining it mattered.
I'm also not suggesting that this information isn't important. It is all relevant. It's legally relevant. It's important to have medical history. It's important to know the relationship a child has to any individual bringing him or her to the ER. But, there has to be a better way to communicate those questions. Vocabulary does matter. When there is a person who isn't valued as highly in society as other people (I'm arguing that foster youth are not treated equally), then there is an indifference to their situation when someone sees the word "foster" written somewhere in a chart. I'm confident ER admissions staff doesn't ask a biological mother to bring a birth certificate when admitting her child. I'm confident because I have experience. I have a biological child as well and I have never been asked to prove my realness to her.
You could argue that if medical records updated the record prior to our crisis we wouldn't have had this exchange. That's also true. It's not the information requested I am upset with, but the vocabulary used to ask for it and the indifference in any feeling a child could have regarding the status they may or may not have as a member of a family.
Occasionally people ask me if I feel differently toward my biological child than my adopted children. Although I believe this question is steeped in curiosity and phrased poorly, I dislike the question on so many other levels. And the answer is, I don't. I feel the same heart ache when each of them hurt, I feel the same joy when each of them grow and learn, and I tear with pride when they discover something new and proudly share it with me. I also spend the same amount of time comforting boo-boo's, going to doctors appointments, making dinner, potty training, reading stories, snuggling, giggling, learning, loving and growing with each of my children regardless of biology. I don't spend my days and nights agonizing about how our family came to be, I spend them focused on the things we are, the family we've become, and the children I love more than anything else.
So please, please recognize that although a person may have a different life experience from your own, the vocabulary you use to create their internal identity matters. The words you use when you are curious, helping, nosey, judging, educating, or simply doing your job – they all matter.