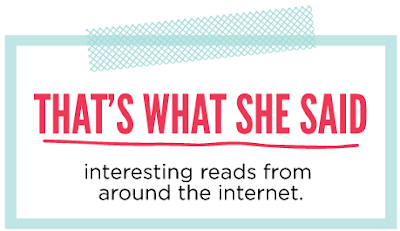 In honor of the Olympics, in particular the USA Women's National Team, Amelia Morris – a former gymnast – pens a beautifully articulate essay that parallels the unrealistic expectations of motherhood and womanhood with the complicated scoring for gymnasts that includes, not only the skill, but the artistry of how the skills are performed…"In other words, gymnastics is a sport where you have to do it all. Style points literally count. You must perform jaw-droppingly difficult skills and look good doing it. I don't think the same can be said for most other sports. (I'm specifically thinking of those triathletes that collapse across the finish line in a style that might best be described as "dying an extremely painful death.") The more I read O'Rourke's piece, the more I began to relate less as a gym fan and more as a woman and mother. Just like my young gymnastics heroes, I too have felt the pressure to do it all.Specifically: I want my body to work; for my belly to stretch to carry my children; to stretch—to put it gently—even more in order to birth them; and for my breasts to fill (read: stretch) with milk and therefore grow larger than they ever had been in my pre-child life. And yet I also want my body to "bounce back" to my pre-child level of thinness, to my pre-child muscularity. (Bounce is actually a horrible word for it, since, in order to work out—to run and jump—like I once did, I now have to wear two sports bras.) And then I want to adorn this imaginary post-child-yet-pre-child-level-of-thinness body with loose, shapeless dresses, wear no makeup, and appear effortlessly beautiful."
A fun list of all the things everyone else is effortlessly doing this summer like number 16. Staining reclaimed wood in the garage…."17. Drinking frothy summer ales by tables by the shore. All of the legs of the table are the same length…22. Running through the waves with abandon…39. Fun-running."
The good, the bad, and the disgusting…9. I wear the same bra for two weeks because laundry.I have two black sports bras that I practically live in (though when I'm home, I'll be damned if I wear a bra at all). They are on rotation, but sometimes neither one makes it into that week's laundry. Oops.
A dad for the ages..."5. The dog does not slobber or have a runny nose. All parties agree that those kinds of dogs are gross…9. Dad has unrestrictive veto power over the dog's name…12. The dog is not included by name on the family Christmas card. Also, if there is a picture of the dog on the family Christmas card, it shall be merely incidental–i.e. the dog will not be the primary subject of the photo."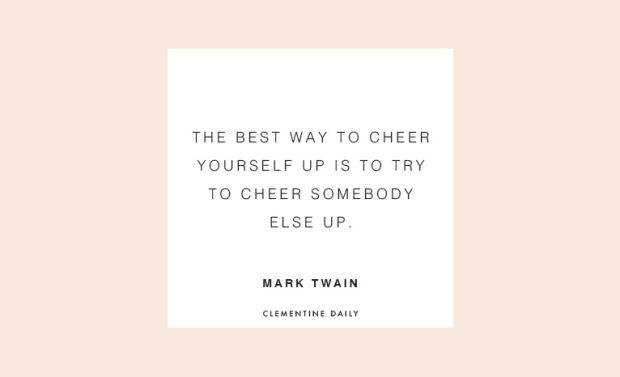 With the current political climate and the overall state of the union when it comes to racial injustice, hate crimes, and bigoted rhetoric, a gentle reminder of how to turn towards love and away from the hate…1. Love all the parts. It starts with how see your own self. I'm now 42 and have had babies. Things aren't as perky or "young" as they used to be. I'm aging. You, too?! How do you regard the bulges on your waist, your "widening seat", your breasts beginning to sag? Yes, start with those physical parts we tend to not like so much and are constantly trying to change and "perfect."What if you decided to love them? Yes, that's right – love them. What if you saw those parts as sacred space that have carried and birthed and fed babies? What if you ended the war with your own body? How do you think this would impact things in your life, your relationships? And how about those shameful parts of yourself? The parts of yourself you are disgusted with? The addictions you have? "Did you say LOVE THEM, Lisa?" Yes. Love them. It's love that heals. It's love that remembers "integration" and "wholeness." Not hate. Hate divides. Yes, go on and love yourself so completely, with so much regard and kindness, and see what happens in your home, between you and your partner, between you and your children…and in our world.
I WAS ONE OF THE MOST ARDENT HILLARY HATERS ON THE PLANET…UNTIL I READ HER EMAILS | bluenationreview.com
A former Hillary-hater has a change of heart when she takes the time and reads all of the emails that were leaked last August…"In those emails, I discovered a Hillary Clinton I didn't even know existed. I found a woman who cared about employees who lost loved ones. I found a woman who, without exception, took time to write notes of condolence and notes of congratulations, no matter how busy she was. I found a woman who could be a tough negotiator and firm in her expectations, but still had a moment to write a friend with encouragement in tough times. She worried over people she didn't know, and she worried over those she did. And everywhere she went, her concern for women and children was clearly the first and foremost thing on her mind. In those emails, I also found a woman who seemed to understand power and how to use it wisely. A woman of formidable intellect who actually understood the nuances of a thing, and how to strike a tough bargain. I read every single one of the emails released in August, and what I found was someone who actually gave a damn about the country, the Democratic party, and all of our futures."
MOMENT IN CONVENTION GLARE SHAKES UP KHANS' AMERICAN LIFE | nytimes.com
A wonderful read that paints a vivid picture of the Khans along with their late son Humayun, and how this family's American life came to reshape a presidential election…"It was his day off but he was not much for days off. He was the commander of the Force Protection Team of the 201st Forward Support Battalion, First Infantry Division, at Camp Warhorse in Diyala Province, Iraq. Sgt. Crystal Selby, one of the team's drivers, went to pick him up that morning. June 8, 2004. He said he wanted to check the compound's gate. On a day off? She told him to stay in his room. He was her boss. She could not order him to, and he got in. It was funny how she had known Captain Khan only a couple of months and yet it seemed like she had known him so much longer. It was the way he treated her and all of the soldiers. "He didn't talk to you like he was in charge of you, but like a friend," she said. "He taught you how to be better. Not better tanker or better fueler. Better human being." He made sandwiches for his soldiers when there was no time to get to lunch. He had such an easy sense of humor. "I read where someone called him a soldier's officer," she said. "To me, he was a human's human." The drive took three or four minutes. She dropped him off outside the gate and headed to the office. An orange-and-white taxi carrying two suicide bombers was creeping toward the gate. Captain Khan shouted for his men to hit the dirt. That may well have saved their lives. He moved toward the taxi, trying to halt it. Sergeant Selby was still in the truck, not even to the office, when she heard the explosion. When she arrived, the news of his death was already on the radio."
TRUMP REFLECTS WHITE MALE FRAGILITY | nytimes.com
An essay that explores the deeper meaning of the slogan Make America Great Again.…"He appeals to something deeper, something baser: Fear. His whole campaign slogan, "Make America Great Again," is in fact an inverted admission of loss — lost primacy, lost privilege, lost prestige. And who feels that they have lost the most? White men."
THINGS TO DO & THEATRE TO SEE