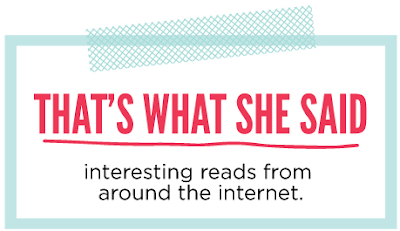 SOME ANTICIPATED CHANGES AFTER THE MATRIARCHAL REVOLUTION | newyorker.com
A satirical list of changes now that we have nominated our first woman to run for president…"Women will ask their male peers at work to do them a huge favor and make them a coffee. And then, when the guys feel weird about it, the women will act so confused, and be like, "What? I said it was a favor."


HILLARY CLINTON'S HUSBAND WORE A FETCHING PANTSUIT TO HONOR HER NOMINATION FOR US PRESIDENT | qz.com
A satirical role reversal for fashion at party conventions…"We've yet to read an interview with the person who styled Bill's silver locks for last night's DNC appearance, or even see a brief in Women's Wear Daily or GQ crediting the designers who dressed him for the occasion. Did he buy his suit online, like Melania Trump's Net-a-Porter-purchased Roksanda last week? Did he go to a store? Work directly with a designer? We just don't know, which means it's going to be really difficult for this particular navy suit to sell out, as so many of the dresses worn by Michelle Obama have over the past eight years. Was it Hickey Freeman? Hart Schaffner Marx? Again, we just don't know."
ETHICISTS SAY VOTING WITH YOUR HEART, WITHOUT A CARE ABOUT THE CONSEQUENCES, IS ACTUALLY IMMORAL | qz.com
An interesting argument about the ethics of voting with your heart instead of your rationale and the consequences of such…"Finding a candidate who embraces your values is understandable, crucial even. But fervent idealism, which places support for a certain candidate above all practical consequences of that support, is foolhardy. According to ethicists, it's also immoral. "The purpose of voting is not to express your fidelity to a worldview. It's not to wave a flag or paint your face in team colors; it's to produce outcomes," says Jason Brennan, a philosopher at Georgetown University and author of The Ethics of Voting. "If they're smart, they'll vote for the candidate likely to best produce the outcome they want. That might very well be compromising, but if voting for a far-left or far-right candidate means that you're just going to lose the election, then you've brought the world further away from justice rather than closer to it."


5 REASONS TRUMP WILL WIN | michaelmoore.com
A terrifying bullet point list of the reasons why Donald Trump may win the presidency. In the words of Barack Obama, "Don't boo, vote"…. #2. The Last Stand of the Angry White Man. Our male-dominated 240-year run of the USA is coming to an end. A woman is about to take over! How did this happen?! There were warning signs, but we ignored them. Nixon, the gender traitor, imposing Title IX on us, the rule that said girls in school should get an equal chance at playing sports. Then they let them fly commercial jets. Before we knew it, Beyoncé stormed on the field at this year's Super Bowl (our game!) with an army of Black Women, fists raised, declaring that our domination was hereby terminated! Oh, the humanity!…That's a small peek into the mind of the Endangered White Male. There is a sense that the power has slipped out of their hands, that their way of doing things is no longer how things are done. This monster, the "Feminazi,"the thing that as Trump says, "bleeds through her eyes or wherever she bleeds," has conquered us — and now, after having had to endure eight years of a black man telling us what to do, we're supposed to just sit back and take eight years of a woman bossing us around? After that it'll be eight years of the gays in the White House! Then the transgenders! You can see where this is going.
FATHER OF DECEASED MUSLIM SOLDIER TO TRUMP: You've sacrificed nothing."
In other news regarding racial injustice, on Friday a federal court struck down North Carolina's voter-ID law requiring residents to show identification when voting, also eliminating same-day voter registration, seven days early voting, and voting out of precinct citing discrimination…"
The federal court in Richmond found that the primary purpose of North Carolina's wasn't to stop voter fraud, but rather to disenfranchise minority voters. The judges found that the provisions "target African Americans with almost surgical precision." In particular, the court found that North Carolina lawmakers requested data on racial differences in voting behaviors in the state. "This data showed that African Americans disproportionately lacked the most common kind of photo ID, those issued by the Department of Motor Vehicles (DMV)," the judges wrote."
11 ORPHANS WHO NEVER GOT ADOPTED SHARE HOW THEIR LIFE TURNED OUT | knowable.com
An eye-opening look at some hard truths…"The people I was surrounded with in my foster homes made be believe that anybody that interacted with me wanted to use me and that led me to withdraw from everybody and isolate myself to be on the safe side. I really only felt at "home" when I was in school. Things are better now, I am working on my PhD and I'm trying my very best to build healthy relationships with people, but it is extremely hard to open up when I've been hurt so much."


THE FUNNIEST PARENTS ON TWITTER TALK LAUNDRY HELL | scarymommy.com
Imagining the detergent is gasoline and other adventures in laundry hell…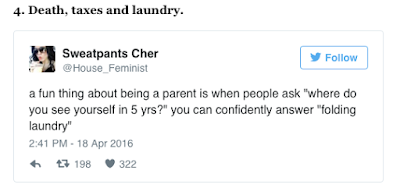 MANY IN NATION TIRED OF EXPLAINING THINGS TO IDIOTS | newyorker.com
A satirical look at the much debated facts that often get lost in translation when it comes to politics, such as climate change…."Coming in a close second, statistical proof that gun control has reduced gun deaths in countries around the world is something that a significant number of those polled have given up attempting to break down for morons. Finally, a majority said that trying to make idiots understand why a flag that symbolizes bigotry and hatred has no business flying over a state capitol only makes the person attempting to explain this want to put his or her fist through a wall."
THINGS TO DO & THEATRE TO SEE
LA families, if you haven't yet been to the drive-in movie theatre this summer, check out the
Vineland Drive-in
which is playing some terrific, current family-friendly movies. If you are looking to dodge the heat, the Annenberg Space for Photography has a breathtaking exhibit,
Refugee.
There are also some fantastic art exhibitions around town including
Cindy Sherman: Imitation of Life
at The Broad and
James Turrell's
Light Reignfall
at the LACMA.
In & Of Itself
is in its final extension at the Geffen, so be sure to check that out.