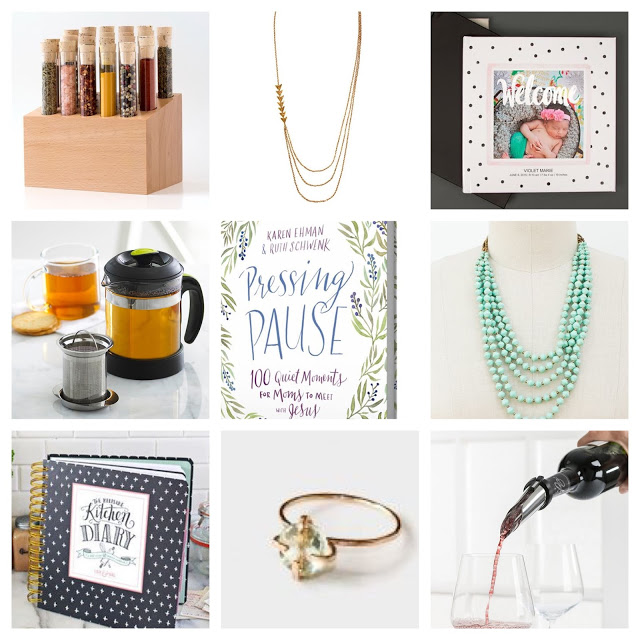 1. Chef Inspired Spiceologist Block | spiceologist.com
2. Vale Necklace | Purpose Jewelry *Purpose jewelry is handcrafted by survivors of modern-day slavery. 100% of the proceeds benefit International Sanctuary, a non profit that provides holistic care for young women rescued from sex trafficking.
3. Albums made from your social media accounts by Shortcake Inc | ShortcakeInc.com
4. Tea-Maker | trudeacorp.com
5. Pressing Pause: 100 Quiet Moments for Moms to Meet With Jesus | amazon.com
6. The Hostess Necklace | 31 Bits *31 Bits uses fashion and design to empower people to rise above poverty in Uganda.
7. The Keepsake Kitchen Diary | Lily & Val
8. Solitaire Ring | fashionABLE *Creating Sustainable business in Africa
9. Aroma Aerating Wine Pourer | trudeacorp.com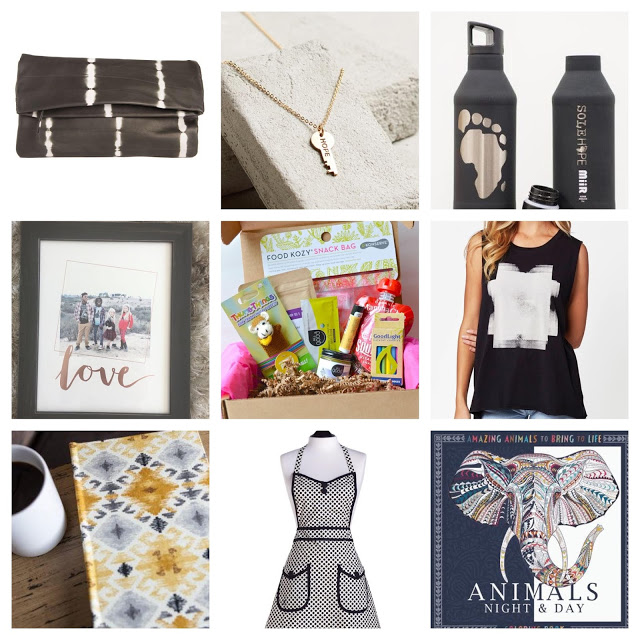 1. Black & White Shibori Crossbody Bag | Sseko Designs *Sseko Designs is an ethical fashion brand that hires high potential women in Uganda to make sandals to enable them to earn money through dignified employment that will go directly towards their college educations and ensure they will continue pursuing their dreams.
2. Petite Key Necklace | The Giving Keys *The Giving Keys exists to employ those transitioning out of homelessness to make jewelry out of repurposed keys that get sold and shared around the world.
3. MiiR Vacuum Insulated Bottle | Sole Hope *Sole Hope effectively puts in place preventive methods to combat diseases that enter through the feet and to create a positive physical and spiritual difference in the lives of individuals in impoverished communities.
4. Foil Pressed Photo Art | minted.com *If you are looking for a great Mother's Day gift that gives back, Minted​ has some gorgeous artwork and they will donate 20% of the proceeds to Every Mother Counts​!
5. Hand-selected eco-friendly products for Mom & Baby | ecocentricmom.com
6. Tiled Muscle Tank | Krochet Kids *Empowering vulnerable women in Peru
7. Yellow & Grey Ikat Pattern Hardcover Journal with Handmade Paper | etsy.com
8. White and Black Deco Dot Audrey Apron | jessesteele.com
9. Animals Night and Day Coloring Book | barronseduc.com