What I Want You to Know is a series
of reader submissions. It is an attempt to allow people to tell their personal stories, in the hopes of bringing greater compassion to the unique issues each of us face. If you would like to submit a story to this series,
click here
. Today's guest post is by Kelsey Nielsen.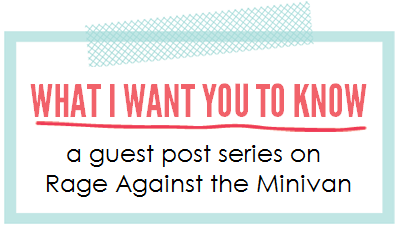 I want people to know the hell it has been, coming to terms with my mental health diagnosis. Struggling with mental health, in Christian communities, can feel very lonely. Often, you can be made to feel that your faith is not strong enough and that you are not thankful enough for all God has done. This can be both self imposed and the impact of a community at a loss of what to do and how to react. I believe one of the biggest reasons that this is our reality is because of the stigma attached to mental health. We keep it quiet, we dumb it down and we most certainly do not get real about how bad it really is.
I was diagnosed with Bipolar Disorder when I was 17 and again at 24. I say again because we (myself and my loved ones) never took the first diagnosis very seriously. I was, after all, a rebellious teenager. I am the Co-founder of a successful international nonprofit in Uganda. After experiencing a pretty serious trauma a year and a half ago, I had spun out of control. I came back to America, seeking mental health support, but the truth is, I was never honest enough about how bad it was.
What I want people to get from this entry is that mental health can not and should not be swept under the rug or treated as a taboo topic. I decided to write a blog post (link attached above) disclosing my Bipolar diagnosis for this very reason. I felt God asking me to be more open and to use my darkness to shed light on how important this conversation is. We need to create safe places where our brothers and sisters, like me, can come forward and be real about our struggle with mental health.