If you are looking for a way to commemorate the life of Martin Luther King Jr. with your kids, a movie is a great way to start. I know that race conversations can feel daunting, but a movie is an easy entry to a deeper conversation. Here are some great conversation-starting movies that are available to watch: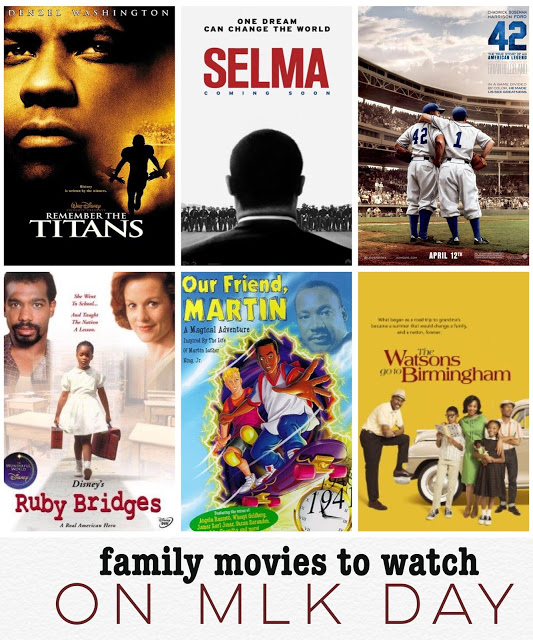 Ages 3-8
Set in Detroit during the Civil Rights Movement, this movie tells the story of a brave 10-year-old African-American girl whose imagination and creativity reinforce her optimism. This movie touches on the national events that happened during the civil rights movement in a story appropriate for younger kids.
Martins Big Words is a video read- aloud of the popular children's book. It is rich with pictures and not too long, perfect for younger kids. It specifically honors the work of Martin Luther King Jr.
This full-length animated movie is a bit dated, but it is a great story about a boy who travels back in time to when Martin Luther King Jr. was alive, and witnesses several historic moments. It is a great way to introduce younger kids to the events of Martin Luther King Jr.'s life.
Ruby Bridges
This Disney movie tells the true story of Ruby Bridges, the African-American girl who helped to integrate the all-white schools of New Orleans. At age 6, she was the only girl to come to an all-white school where she faced a mob of angry white people every day. Her strength and determination in the face of over it racism is an inspirational story of a little girl breaking down racial barriers.
Ages 8-12
The Watsons Go to Birmingham is a fictional movie in which an African American family takes a road trip to Birmingham amidst the civil rights struggle. The movie weaves in historical events, such as the bombing of a Birmingham church. There are many depictions of racism and discrimination, which could be a good conversation starter about the civil rights movement.
Ages 12 and over
If your kids are older, this is definitely the movie to watch about Martin Luther King Jr. It follows the events leading up to his civil rights march from Selma to Montgomery in 1965. It provides historical context for all of Dr. Kings work, but specifically on his work towards desegregation in the south. There is some cursing in the movie, and the use of the N-word, and some racially motivated violence.
Remember the titans tells the true story of a newly integrated high school football team in Virginia in the 1970s. The movie explores the racial tensions between African-Americans and white people as the town copes with the end of segregation. The movie depicts instances of racism in the town, such as segregation in restaurants and racial slurs between peers. It is an inspirational story with positive role models of both races.
42 is a historical drama about Jackie Robinson breaking the color barrier in baseball. It is not focused on the life of Martin Luther King Jr., however it provides a good bit of context for children to understanding the importance of the civil rights movement. This movie has some cursing and the use of racial slurs, but it offers some good lessons on the prevalence of racism in our country at that time.

Any other movies that you know about that I've missed? If so, link them up in the comments!