*Since I'm a bit out of the baby stage and didn't feel qualified, my assistant (and new mom)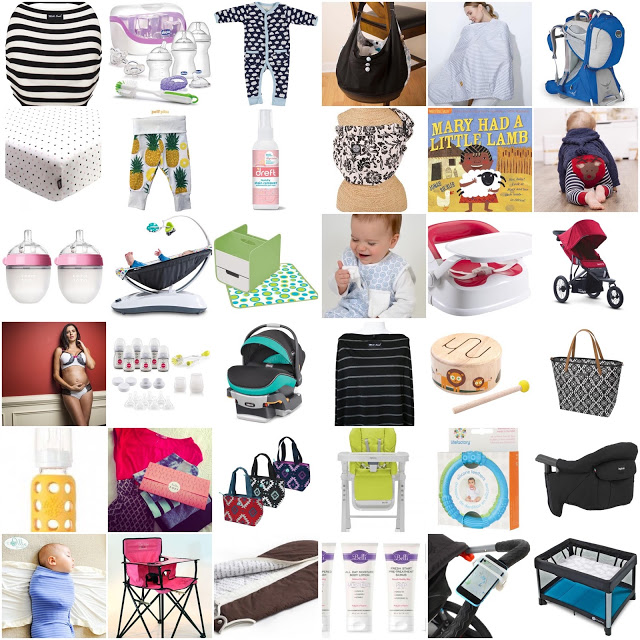 *Starting from the top left and moving right.


1. Milk Snob Paparazzi Car Seat Cover | MilkSnob.com
I think this is my favorite new mom secret weapon. First, how cool are these? I can't tell you how many people have asked me where I got this. Second, it is a great way to keep people from reaching into the stroller and touching your baby, especially in the peak of flu season! Third, they are great for sun coverage and they can also be used as nursing covers.
2. Chicco NaturalFit All You Need Starter Set | Chicco
'Nuf Said. But for real, it's a great gift for the mom starting on bottles – comes with a microwave sterilizer.


3. Rockin' Baby Cloud Romper | Rockinbaby.com
Cute romper that also gives back! If you buy this item they give an item to a child in desperate need.


4. EquiptBaby Diaper Bag | Equiptbaby.com
This bag can literally carry it all. It has a hard shell bottom which I grew to like especially since I throw the bag down all the time when loading and unloading the car and when carrying glass bottles, it comes in real handy.


5. Classic Nursing Cover by White Sateen | Amazon.com
Good structure and breathable. I used this on two long cross country flights and my daughter not only successfully nursed she fell asleep under the cover for two hour naps!


6. Osprey Poco Premium Child Carrier | Osprey
Because sometimes a sling or carrier won't do. This is a great pack for the family that likes to hike and camp. Osprey packs always are well designed with a lot of attention to details and special care for comfort. Plus, they just look cool. A great gift for new moms and dads.


7. Bamboo Crib Sheet | Cariloha.com
Soooooo soft.


8. Petit Pilou Pineapple Pants | Petit Pilou
Love these handmade pants – made from organic cotton, soy and a tiny bit of spandex. But the best part – pineapples! And the fold-over waist band. Way more comfortable than the elastic bands.


9. Dreft Stain Remover | Amazon.com
A stocking stuffer must.


10. Balboa Baby : Adjustable Sling | Balboa Baby
A carrier and nursing cover all in one. Love the designs and the simplicity of the Balboa Baby slings. Also, easy to pack and machine washable.


11. Indestructibles: Mary Had a Little Lamb | Amazon.com
These are the best books! All illustration and completely baby proof (rip proof, water proof, etc), this is the kind of book that keeps my mommy brain working. I can either retell the story of "Mary Had A Little Lamb" or fill in the pictures with my own version of events. Jonas Sickler has done something really cool here, too, by placing Mary and her lamb in Africa.


12. Reindeer Stripe Long Johns | JoJo Maman Bébé
Love these long johns from JoJo Maman Bebe. My favorite ones are the fox tushy and the elephant tushy, but these are too adorable to resist. They make for some of my favorite outfit pieces for my daughter.


13. Comotomo Silicone Bottle | Target.com
My daughter takes very few bottles but this is one of her favorites. I think because of the wide nipple and the slow flow. I like it because the silicone can handle high heat if I need to warm the milk quickly in a pot of hot water. It's also a soft "natural" feel.


14. 4Moms rockaRoo | 4Moms
I love this company! Their products are so well designed and the RockARoo is no exception. We used the MamaRoo when our daughter was first born (which I also recommend), but once she got a little older and proved to be a pretty active baby, we found the RockARoo had a rocking sleep that worked a bit better and also great safety features. When baby sits up, the rocking stops.
Super cute and super useful. These can be used as crafting and art caddies in the future.


16. Bitta Kidda LovieSack™ | Bitta Kidda
I was iffy on this product when I first saw it and quickly came to love it. The diagonal zip is genius especially for a squirmy baby and the attached luvvies actually work. She totally soothes herself with them and it's nice that she can't lose them in the crib. I also like that the material is a heavier cotton when you are not quite in need of muslin or duvet.
17. Prince Lionheart's theBOOST Plus | Amazon.com
On to solids! This is great for when the littles start sitting up and eating solids and need their own table space. A great one to move around the house or outside.


18. The Joovy Zoom 360 Ultralight | joovy.com
This rides like a dream! Lightweight, roomy undercarriage and a swivel front wheel that also has the ability to lock straight which is ideal for running distances or pushing/pulling the stroller upstairs. The canopy is huge so I don't have to keep checking if the sun is hitting my daughter. Love. this. stroller.
19. Mia Maternity & Nursing Bra | youlingerie.com
Because its nice to NOT wear maternity underwear or a shapeless nursing bra and actually wear sexy maternity/nursing lingerie. I found the size a little snug around the bust so would probably size up, but I like this bra because its nice to get your sexy back third and fourth trimester.
20. Joovy Boob Gift Set | joovy.com
This gift set has everything you need for getting started and transitioning to bottle feeding. I especially like the breast pump adaptors so you can pump straight into the bottle, cap and store. Also comes with bottle and nipple brush which is a plus.
21.
Chicco KeyFit 30 Zip Infant Car Seat & Base | Chicco
My daughter is not a fan of anything confining or restraining, but this car seat makes the process of getting anywhere the most painless and also the safest since Chicco is the best. Cushy neoprene-like material with a long zip-off canopy and zip off boot, perfect for sunny or cold weather and I especially appreciate the canopy when driving around Los Angeles in a car with no tinted windows.
22.
Multi-functional Nursing Cover | MilkSnob.com
The material is so soft and my daughter's favorite of the nursing covers (if she must) and I like the drawstring on this nursing cover because I can also use over my stroller or car seat.
PBS has some new learning toys and this one was my favorite. The sound the drum makes is actually pleasant and overall I prefer the old-fashioned wooden toys making a comeback over the toys with literal bells and whistles. My daughter seems to prefer them, too.
24. Petunia Pickle Bottom Downtown Tote | Petunia.com
Simply the best! Room for everything but has structure which keeps it organized. And the design is pretty fun, too!
25. Lifefactory BPA-Free Glass Bottles with Silicone Sleeves | Lifefactory.com
Another one of my daughter's favorites. Much heavier than plastic, but there is something reassuring about a glass bottle. The silicone sleeves make them practical for on-the-go use.
26.
Hello Foxy Mama || Hand-picked personalized maternity and nursing fashion | hellofoxymama
Love, love, love this company. I found it impossible to put together stylish maternity outfits and even more impossible to find clothing that was functional and flattering once baby was here and I was nursing all.the.time. Still nursing and I love the outfits the geniuses at Hello Foxy Mama selected for me.


27. Igloo soft side totes | Igloo-store.com
Way cuter and more discrete to tote breast milk around in, these coolers have come in so handy. I also use this to store my milk in after pumping and I can pack some snacks with a water bottle alongside the bottles. Let's be honest, if you have to pump at work, do it cozy and in style


28. Inglesina Gusto highchair | Inglesina USA
By far my favorite high chair that I've seen. An Italian company that thinks about incorporating baby furniture into a home, what I like about this high chair and Inglesina, in general, is that while there is great focus on style, they make quality functional products, too. The chair folds in half and is easy to store. Tray fits close to the body and the seat height is adjustable, as well as the footrest accommodating growing baby.

29. Lifefactory Silicone Teethers | Lifefactory.com
I dig the ring thing. It gives my daughter more ways to manipulate the teether and therefore more use.


30. Inglesina Fast Table Chair | Inglesina USA
Again, Inglesina is all about style and functionality. This clip on high chair is ideal for compact apartment living or dinner out!
31. The Ollie Swaddle | Amazon.com
Lifesaver. What I like about this swaddle is the velcro doesn't wake the baby up.

32. PINK ciao! baby The Portable High Chair | Ciao! Baby
This has come in handy at a few family functions for the holidays and I can't wait to break it out at our next camping trip. Also, they are donating $3.00 for every pink chair sold this year to the National Breast Cancer Foundation
33. The Baby DeeDee Sleep Nest | babydeedee.com
This quilted duvet style sleep sack is a bit big for newborns (goes up to 36 months), but super cozy and a much needed step up from the summer muslin sleep sacks.


34. Belli Ultimate Stretch Mark Protection Kit | BelliSkinCare.com
I will swear by this until I'm blue in the face. I used Belli Skin Elasticity Oil everyday of my second and third trimester into the fourth and not a single stretch mark reared its head. I wish I could say it's because I have good genes, but I have plenty of stretch marks in other areas to disprove that theory. Hence, I believe its gotta be the product.
35. Nite Ize HandleBand™ | NiteIze.com
This is another company I love. They make tons of cool gadgets that are typically meant for the outdoorsy-type but totally apply to the life of a new mom. This is one of them. I don't need my phone on the handlebars of a mountain bike, but I do need one on the handlebar of my stroller.
36. 4Moms Breeze Playard | 4Moms
As a bicoastal family that travels a fair amount, this Playard earns its name because it truly is a breeze. One push and you are set. Also, stylistically, I love the black.


Happy Holidays, Mamas!