I love having portraits of our whole family together. In our everyday lives, I'm usually the one behind the camera, and it's rare to get all four kids in a picture, so it's nice to get a photo with everyone together once a year. I love looking back at our yearly photos – it's like a snapshot of that age and stage. We send out holiday photo cards every year so that's my motivator (and reminder) to get new photos taken every year. What I don't love: taking the family portrait. Oh my word, with four kids it is a lot of work. But the pay-off is worth it. I absolutely love getting photo cards from friends in the mail, and I keep them all in a scrapbook because I love watching their families change over the years. I also love having that memento of our own family each year. Here are a few of our strategies for getting the best holiday photo card:

Hire a professional I'm not sure why it took me so many years to clue into the fact that hiring a photographer is so much easier and with such better results. Studios are tough because they don't shoot rapidly enough to catch the kids in action, and then the space is so small that the kids are always running out of the camera range. A few years ago, I promised myself we would never go to another studio, and that I would always hire a photographer to meet us in a natural setting. This improved our family photos dramatically.'


Photos by Drew B.

Get active and playful. It's unrealistic for kids to sit in a pose for any length of time, and it usually looks staged and unnatural. We've had great photographers who give us direction and know how to be playful with the kids. Having us walk together, or run together, or do a bear hug . . . all of these get great shots while the kids have natural smiles.
Photos by Drew B. Go at magic hour There's nothing more unflattering in a photo than bad lighting and dark overhead shadows. The hour just before sunset is perfect because the sun is warm and glowing. It's like a natural lightbox.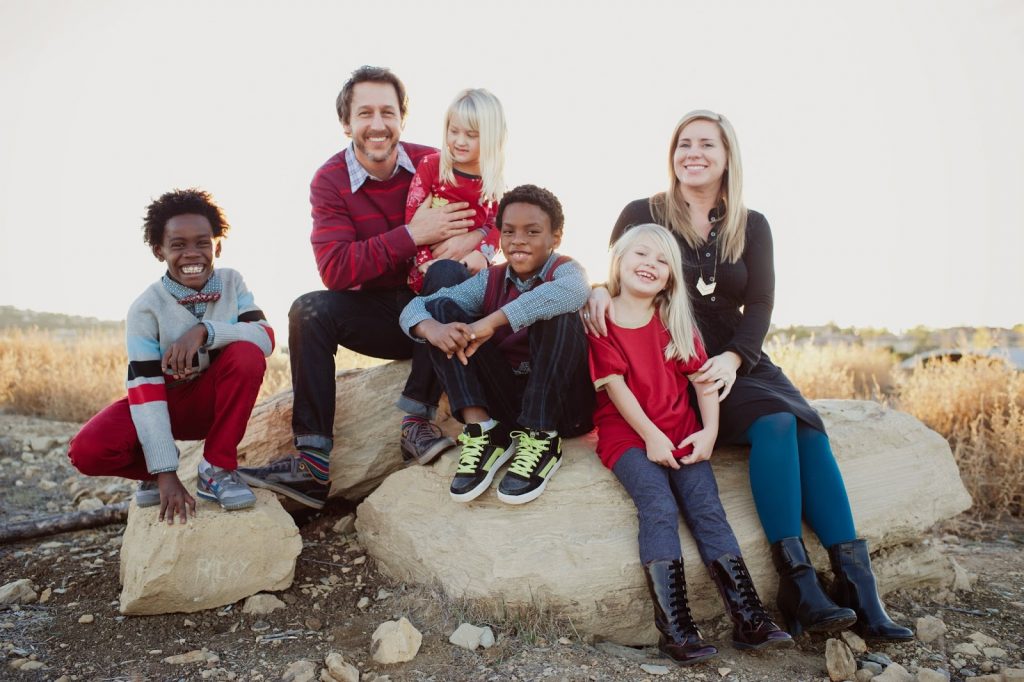 Photo by Kristin Rogers Tell bad jokes Research and memorize some cheesy jokes that you can share during the shoot. Even if it's just some knock-knock jokes that make you inwardly cringe. Kids like the cheese and this will keep everyone smiling.

Pick coordinating colors and patternsDon't be too matchy-matchy. White shirts and khakis are so 1992. Coordinate but don't match. I try to choose timely colors paired with on-trend clothing, and usually pick 3 colors that will be the foundation. I try to keep colors coordinated while mixing prints and solids. Trying to coordinate these outfits for six people can be a challenge, but it's one I enjoy.

Did you know that Pantone picks colors for each year, culling from fashion and graphic design to determine what colors are hot for each season? It's a really good way to get color palette inspiration. Hire a stylist to help you. Okay, I promise – this isn't as daunting or expensive as it sounds. Stitchfix is a great way to utilize the services of a stylist without breaking the bank. You can set a budget for what you are willing to spend, and your fix will come with 5 items. If you buy all five, the styling fee is waived. If you only keep a few pieces, you can send the rest back and you are only out $20 for the services of a stylist. And you can communicate exactly what you are looking for with your stylist. My Stichfix stylist just sent me some great boyfriend jeans and a black and red sweater with epic elbow patches that will match perfectly with the plaids my kids are wearing in this year's photos.
And yes. There are some Star Wars shirts involved in our photo wardrobe this year. I couldn't help myself.
Bribe your kids
I'm not above bribing my kids for good photos. Let's be honest . . . it's probably not any kids' favorite thing to do. One strategy we've done is to promise a skittle for each smile. At the end of the shoot, the photographer scrolls through the photos and we count the smiles. It's a good motivator. And finally . . . Pick the right card to highlight your family photo. I've been getting a lot of emails about our family's photos being used on Minted. First of all, I'm stoked so many people are shopping Minted! They are an amazing company. And second, yes. We gave them permission, along with our amazing photographer Kristin Rogers. And I just love that they are featuring transracial families without any schmaltz. Yep, these siblings don't match. NBD. Nothing to see here but a pretty card and a cute family.
But more than that, Minted is an amazing company because they support independent artists who design all of their cards. And they have so many great options. I always try to choose a card that goes with the colors and feel of the photo we've taken. What is fun about Minted is that you can upload your photos and see all of the cards with your own family photo. Here are some of the designs I've used before:
I liked how this design pulled out the red and black from our wardrobe,
This year's card felt more casual, so we went with a fun font and some yellow accents.
A random detail, but I loved how the coral in Kembe's shirt matched the font on this card. If you are interested in giving Stitchfix or Minted a try, I've got a great giveaway to both companies! Two lucky readers will win $100 in Stitchfix credit. To enter, go here to sign up for Stitch Fix (fill out your profile and submit your email) and then enter your info here. I'm also giving away one of three $100 Minted credits: Enter that contest here. Both giveaways end 11/18/2015 at midnight. Good luck!