What I Want You to Know is a series
of reader submissions. It is an attempt to allow people to tell their personal stories, in the hopes of bringing greater compassion to the unique issues each of us face. If you would like to submit a story to this series,
click here
. Today's guest post is by Debbie Akers.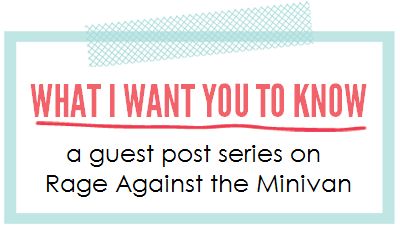 Mitochondrial disease occurs when the body's mitochondria fail to function properly, creating an energy deficit. Each individual is affected differently, but symptoms generally wreck havock in three or more systems. Common problems are muscle pain and weakness, dysautonomia, slow gut motility, vision difficulties, fatigue and seizures to name just a few. What I want you to know about raising a child with mitochondrial disease is that it's both harder and easier than it looks.
The hard parts come in waves. There moments of deep fear that take over me sometimes unexpectedly. There are the questions that put a dagger in my mama heart, because I don't have all the answers. I am scared of the answers. There are all the ways we feel different from typical families. Attending school is nearly impossible. We use a wheelchair for long outings. There are multiple medications and supplements we need to give during the day, but there is no cure. I want to fix it and I can't. I sometimes feel I am failing my other children, who must learn to love with less attention. My head is often spinning trying to juggle appointments with over a dozen specialists involved in my "mito" son' s care. I grieve when I see on Facebook that a child with mitochondrial disease has passed. There are too many gone too soon. There aren't the right words to share with their heartbroken parents. There aren't any words at all.
The easy part of all this is the love I feel for my child, beyond what I can quantify. I can advocate for him daily – medically, socially, at therapies, at school. I know no alternative. I have met so many amazing people on our journey. (And what a long journey it has been, taking 6 years to unravel an exact genetic diagnosis). We are pioneers. We wish to pave the path for others down the road. So far my son's specific genetic mutation is the only known case. I have learned to live in the moment as much as possible. A good day is a good day. We embrace those.