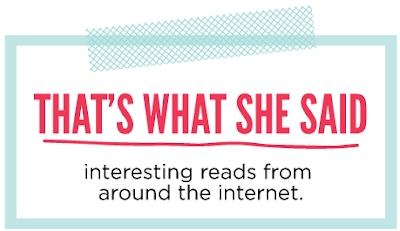 In this Modern Love piece, Ada Calhoun talks about the wedding toast she will never give at any of her friends' weddings after being married for 11 years. She writes that while she loves weddings and she is happy to clap through the vows of being best friends forever, there will be days when he will not be your best friend and you will look upon this man you once adored and only feel rage. You will daydream about what it would be like to be single again, a fresh start, a one bedroom apartment with a cute breakfast nook and three cedar closets. You will reminisce about the days when you only had to pay for your own mistakes. She recalls the brief period of time when she was a religious studies major, practicing Pure Land Buddhism and her professor said to her, "Life is suffering…and yet." Ada talks about the "and yets" in her marriage and also recalls her mother's favorite piece of advice on marriage: "The way to stay married is not to get divorced."
STEPHEN COLBERT OPENS UP ABOUT HIS DEVOUT CHRISTIAN FAITH, ISLAM, POPE FRANCIS, AND MORE… | The Daily Beast
In a candid interview with Father Thomas Rosica, Stephen Colbert talks about his devotion and love for his faith as well as being able to poke fun at the church. While he would never joke about the sacraments he talks about the idea of modern behavior, where one can joke about their religion so long as they love it. He talks about the right relationship to have with his faith which is to love it, but not exclude it from his intellect. "Faith ultimately can't be argued, faith has to be felt…And hopefully you can still feel your faith fully, and let your mind have a logical life of its own, and they do not defy each other, but complement each other, because logic itself, I don't think, for me, and you know – Aquinas might say differently – logic itself will not lead me to God. And, so, hopefully I can use my mind to make my jokesm and not deny my love for God at the same time."
THINGS TO #NEVERFORGET ON 9/11
This is what it means for violence to beget only violence. It can be so difficult, when attacked, not to retaliate. Retaliation feels natural and justified. An eye for an eye makes so much sense. But God is in the business of disarming violence, not escalating it. On the cross, Jesus himself became a victim of violence, and so today, I believe Jesus isn't just standing with the victims who died on 9/11, but with all those who were killed, imprisoned, displaced, and tortured as a result of it as well.


THINGS TO DO AND THEATRE TO SEE
On Broadway this fall, be sure to catch Matthew Broderick, as well as an all star ensemble of Tony award winners (from the director to all three actors), in a comedy by two-time Pulitzer Prize nominee A.R. Gurney –
Sylvia.
The play delves into the complexities of marriage when a man is forced to decide between man's best friend and the love of his life.
New Yorkers who are looking for some good ol' classic family entertainment might check out the Big Apple Circus returning to Lincoln Center October 21st with a Roaring 20s theme.
In Los Angeles, Antaeus Theatre in the NoHo Arts District is putting on a
Chekhov classic, Uncle Vanya
, with shows beginning October 8th. For a more "Hollywood" vibe, The Blank Theatre is putting up original work,
Something Truly Monstrous,
a comedy based on the rumor that the night John Barrymore died, Humphrey Bogart and Peter Lorre stole his body and took it joyriding.