What I Want You to Know is a series
of reader submissions. It is an attempt to allow people to tell their personal stories, in the hopes of bringing greater compassion to the unique issues each of us face. If you would like to submit a story to this series,
click here
. Today's guest post is by Alex King.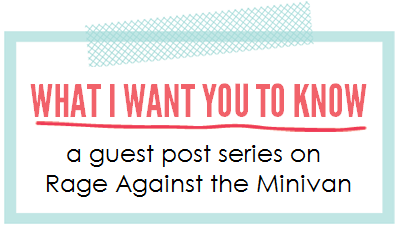 Over 13 years ago, I adopted a baby in Cambodia.

Two years later, the news broke that our government was closing all immigration processing of Cambodian adoptees, because the corruption was too widespread to be ignored. There was evidence that children of all ages were being recruited by orphanages licensed to place them for adoption abroad.

1800 American kids and their families, were rocked by the criminal prosecution of one US citizen. We were numbed and horrified as we learned that our children had been procured for adoption, in some cases…but we don't know which ones. So all of us live with that.

A decade ago, this scandal was a surprise to adoptive families and perhaps to some agencies. Since 2003, 6 other sending countries have been slowed or stopped because of similar problems.

What I want you to know is that children and families have been hurt by the corruption that caused that shutdown, and causes slowdowns in adoption processing.

I want you to know, if you watch the Lifetime movie about the baby sellers–the smallest victims don't stay babies.

This wasn't a matter of some paperwork problems. Our kids, some of them, were bought and sold. We're now struggling to talk with our teens about what happened to them as toddlers, searching our own hearts for an answer to the one remaining question: What now?

It's too late to put our kids back where they came from. Their histories were deliberately erased anyhow. With cheap, available DNA tests and Facebook growing in the developing world, some of the victims of the scandal get a chance to put the pieces together. Others have so little of the puzzle that it's not possible to find their first families.

One of these days we may see an end to the rotating adoption scandals that have touched families adopting from China, Russia, Vietnam, Ethiopia, Guatemala…etc. etc. Meanwhile, though, the merry go round spins and families suffer.

So when you see a headline, or get an email from your agency, about adoptions from Ethiopia or DRC or wherever slowing down because of corruption–it's not the meanies at UNICEF trying to make your family hurt.

I want you to know that if your adoption has been put on hold because of paperwork problems, that's good. JCICS and the Hague and the State Dept. are trying to keep the next adoption scandal from touching your family.

Paperwork problems aren't trivial, like we thought; they were symptoms of serious legal and ethical violations that brought the 'orphan' we adopted into the system.

It's outrageous that this thing keeps happening and it seems that no one can stop it. It doesn't get easier. I don't regret adopting my child–she's lit up my life from the day we met–but I wish that we and her first family hadn't been lied to.

I want you to know that loving my child, and knowing that she may have been sold, is a delicate and heavy burden I have done everything I can to balance gracefully for 11 years…and it's hard.