What I Want You to Know is a series
of reader submissions. It is an attempt to allow people to tell their personal stories, in the hopes of bringing greater compassion to the unique issues each of us face. If you would like to submit a story to this series,
click here
. Today's guest post is by Cam.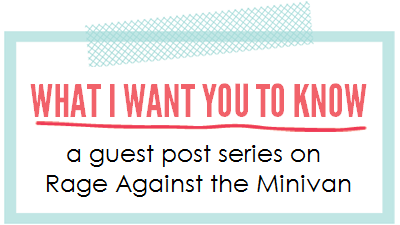 As mother day looms, and people go crazy buying flowers and gifts, and cards… I struggle. I ache. My heart cries.

I have two beautiful children, and so yes, I am a mother. People say I should be happy and accept this. But they are teens now, I am remarried, and my husband and I have had five miscarriages in two years. The most recent was after 12 weeks… Past that safety line where everything should be fine. But it wasn't. But it isn't.

We grieved. I went through all the emotions. Guilt, anger (looking around my house to find something to break, desperate for something to look how I felt inside. I never did for fear of scaring my husband, but I had to literally hold myself back), sadness, regret… I felt like I had once again let my husband down, that my body had betrayed us and my "old eggs" were broken beyond repair or hope.

And so we arrive at Mother's Day filled with love for the children I do have, with care for the mothers who are still in our lives… And with a heart that knows we have five angels in heaven looking over our shoulders. People around us assume its over and done… Miscarriage is one of those private things that people just want to ignore for the most part. It makes us uncomfortable, and it seems easier to ignore it than to see it, to see the grief and loss of the parents…

So many of us don't see Mother's Day as a time of sad remembrance. In a child centric society, we forget those on the fringes. Forget those whose pain is raw, or even healed over with a scab, or a callous… This Mother's Day look around. See the eyes of those women that are sad, uncomfortable, trying not to attract attention… For they were mothers too, regardless of how empty their arms may be.