What I Want You to Know is a series
of reader submissions. It is an attempt to allow people to tell their personal stories, in the hopes of bringing greater compassion to the unique issues each of us face. If you would like to submit a story to this series,
click here
. Today's guest post is by Sarah.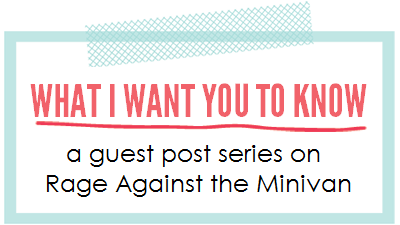 My husband and I have been married nearly 5 years. Our relationship started as a sort of whirlwind romance. We met on a Friday – went out to dinner on Saturday – and on Monday we were an official couple. That next weekend we were looking at engagement rings! I am not kidding. He proposed 4 weeks after we met and we were married just two months after that. We were and still are madly in love and are the best of friends. People told us we would have highs and lows. I think a lot of people were skeptical that we would survive after our quick start. I just blew off the "low" comments and decided we were so in love that nothing bad could ever come our way. HA!
A year into our marriage we started trying to build our family. All of my friends were getting pregnant. Some were even on the pill when they got pregnant. How long could this take? The months of trying turned into a year. Something was wrong…I just knew it. We finally gave in and made some medical appointments and were diagnosed as infertile. I.N.F.E.R.T.I.L.E
We already had a feeling something was wrong but to be labeled as an infertile couple really got us down. We clung to each other and to our faith. This isn't the point in our marriage where we experienced a low. We really grew closer to each other and learned to enjoy 'just us.' Although, I could probably scream at the time when someone would tell me to "just enjoy each other for now…it'll happen eventually."
Dealing with infertility completely changed us. It made us stronger as individuals and as a couple. It taught us to really be thankful for everything we have. It taught us to trust in God and always have faith in his plan for our lives. I explain to my friends that infertility is like dealing with the loss of a loved one. Except, with a loved one, you have the fond memories to look back on. With infertility, you mourn the loss of someone that never was. The hopes and dreams you have for your little one that will never come to fruition. And the emotions start over month after month after month! Infertility is crushing!
Our hearts were opened to adoption before we ever pursued any fertility treatments. Adoption is a daunting road to begin. We trusted in God and the more we learned about adoption – the more we came to realize this was His perfect plan for our lives.
Just two months after our homestudy approval we were selected by a birthmother to parent her unborn child. (On a side note…to get to the homestudy approval…it took us a year and a half of paperwork). We really had an amazing experience with our adoption. God orchestrated a miraculous work. Our daughter made her arrival late in November 2012.
I instantly quit my job as a research chemist to become a stay at home mom. A job I had went to school for 8 years and earned a Master's degree in Chemistry to obtain. A job that paid half our income. A job that I loved…but not enough to keep me from enjoying every second of our precious baby girl.
Now…this is where the low comes in. Having a baby in the winter, sleepless nights, snowy days, gaining weight, not talking to adults (other than my husband) for days….it all added up to what they call Post Adoption Depression, just like post partum depression. I was in denial for several weeks. I began to hate my life. It was such an unexpected state of mind for me. This was supposed to be the happiest time in our lives. We were experiencing so much joy in finally being parents….and I was feeling depressed…What? It was (and is still, sometimes) so confusing to wrap my mind around.
I lost my identity. Before baby I was working for a big time company doing big time research and respected by my peers. I was also running 5K races once a month and in the best shape of my life. And now…now I stay at home. I wear yoga pants (the ones that fit before I lost all the weight) and don't fix my hair. I clean our house, do laundry, and take care of our beautiful daughter.
We were struggling financially with the adjustment in losing half our income. The depression eventually spilled over and began to affect our marriage. Things were tense sometimes. I was constantly unhappy and my loving dear husband was having a difficult time with it. I was always angry at him. I was resentful that he still got to go to work and have his life back while I was stuck at home.
I want you to know that I still struggle with post adoption depression. I want you to know that it hurts. I want you to know that it is confusing to be so unhappy during the happiest time of our lives. I want you to know that I put on a front and carry on like the happiest stay at home momma there ever was. I want you to know that I am finally starting to talk about it. That I am finally reaching out to friends for help. I want you to know that no matter how great our lives are there will be times of struggle. And I want you to know that I am struggling and I need your prayers. We need your prayers. Our marriage is hurting.
We know we can work through this. And we are trusting in God. Just looking at the little miracle in our living room is evidence.