What I Want You to Know is a series
of reader submissions. It is an attempt to allow people to tell their personal stories, in the hopes of bringing greater compassion to the unique issues each of us face. If you would like to submit a story to this series,
click here
. Today's guest post is by
DMC
.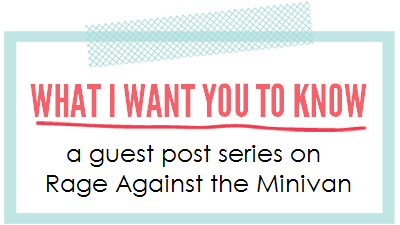 My daughter was diagnosed with Turner's Syndrome at 13. Her doctor of 13 years dropped the ball, obviously not acknowledging that she wasn't even ON the growth chart. It changed our lives totally when the diagnosis came. The best thing I can suggest is to not be shy about it, speak about it, share your story like you are here but mostly in her environment. You will meet a lot of over 40 year-olds that come from the 'don't tell' era–but that is still a big part of the shame that was drummed into any parent's head since Dr. Turner discovered this syndrome.
The "gender" part of it was vague. Well, it is NOT vague. Turner's girls are just THAT…GIRL Butterflies! The nicest, sweetest, kindest girls you will ever meet. The short stature is a tough one for a long time. My daughter gets talked down to daily!! I finally trained her to just stare at them in the eyes…when they say " Oh you're so cute! how old are you? 9?" ( She's 16.5 years) I really want her to say…"What are you 200 pounds?" Ha! But, I can't. For anyone reading this that is new to TS, you are blessed because you are among the nicest people to walk this earth!! Know that!! Feel it in your heart that people will come to really appreciate the kind person you are and it will impact them.
I worry for my daughter for her intimate relationships as we have not crossed that bridge. She's such a true innocent that it may rock her world if some guy hits on her in a weird way that she's not prepared for. I just pray she meets an incredible guy who GETS her totally. College is next year and that's the next big hurdle…challenge…adventure!
If you don't not have TS or have a child with it..but just stopping by to read this….keep an eye out for a petite gal or two..you just may notice them and next time you won't wonder what's going on with them….you just may know they are a TS gal….look them in the eye and never mention about their height….speak with respect and pay a sincere compliment. Take care.