What I Want You to Know is a series of reader submissions. It is an attempt to allow people to tell their personal stories, in the hopes of bringing greater compassion to the unique issues each of us face. If you would like to submit a story to this series, click here. Today's guest post is by Kate.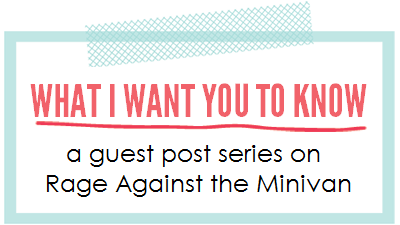 Yup, I am! But I was not always. After marrying my high school sweetheart and the man of my dreams, I just couldn't fathom why I was not as into sex as he was. Through better understanding more about myself sexually, my hubby sexually, birth control, dying to my own selfishness and the grace of God, I have become a sex-positive wife. Not to mention, my hubby is super awesome and hot, by the way!
No I do not have a third eye on my head so stop looking at me that way!
So many times when I share my positive nature about sex with other women, I get that look. You know the one that makes me feel like I have a third eye. Many women are perplexed by me wanting to make sex a priority in my marriage. Yet I can share that I have seen and felt the effects of not doing so. It is not a pretty picture. Sex is a mystery in many ways, but it is also a thermometer for your relationship. I bet if you think on it, the times in your marriage where things feel connected and good, is when sex is a priority. Hmm . . .
I still struggle . . . sigh
Yes, this part is true as well, I still struggle at times to make sex a priority. We have three kids that I currently homeschool. They are active in one activity each, my hubby and I have an active blog, I am a professional photographer in my free time (what of it there is). Just like all of your schedules, there is not much time to actually see one another let alone make time for sex. Not to mention I have had my kids hanging on me all day and one more person doing the same, well I just don't know if I can handle it. Yet once I relax and let the day go, sex is the perfect way to connect with my hubby. It casts all else aside and allows us to refocus on us-the original two-you know before kids!
Give it a try and see if I am right
At one time most of us were excited about sex with our spouse. That is because it is exciting and a good thing. It can be an incredible blessing in your marriage if you allow it to be. Don't believe me? Make sex a priority for 10 days straight, every day. That's right, have sex with your hubby for 10 days straight. No, I am not joking! See if it does not draw you closer and allow you both to extend grace to one another. Making sex a priority in our marriage has truly changed my marriage and my perspective on the gift that sex is. To be honest ladies, I now have the marriage I always hoped I would.